Three new academic leaders appointed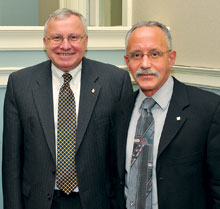 Photo by Kathy F. Atkinson
ON THE GREEN | A new provost and new deans for two of the University's seven colleges have begun work in their positions effective July 1. All three are UD alumni.
Tom Apple, AS '82PhD, formerly dean of the College of Arts and Sciences, was appointed provost, succeeding Dan Rich, who held the post from 2001 until he stepped down to return to the faculty as University Professor of Public Policy in the College of Education and Public Policy. Before being named provost, Rich was dean of that college.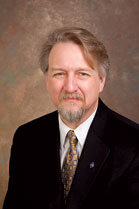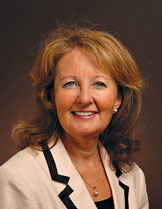 "Dan recommended Tom Apple as his successor, and I fully agree that Tom is the right choice," UD President Patrick Harker said in announcing Apple's appointment as provost. "I know the University as a whole will benefit from the same commitment and focus that have characterized Tom's leadership in the College of Arts and Sciences. The experience, expertise and continuity that Tom brings to the Office of the Provost will support continued progress on our Path to Prominence."
The provost is the University's chief academic officer, next in authority to the president, and oversees instruction, research, public service programs, graduate studies, continuing education and international programs.
Apple, who served as dean of the College of Arts and Sciences since July 2005, earned his bachelor's degree in biology at Pennsylvania State University and his doctorate at UD in physical chemistry. He was a member of the chemistry faculty at the University of Nebraska and then at Rensselaer Polytechnic Institute, where he was vice provost for administration from 2002-05.
Also effective in July, Kathleen S. Matt, AS' 75, '78M, joined UD as dean of the College of Health Sciences, and Michael Gamel-McCormick, AS '79, EP '79, who had been serving as interim dean of the College of Education and Public Policy, was appointed to the permanent position of dean.
Matt most recently was associate vice president for biomedical affairs and clinical partnerships at Arizona State University (ASU), where she served as a liaison between the university and various community partners in facilitating clinical collaboration and innovation. In addition, she was the Franca G. Oreffice Dean's Distinguished Professor of Kinesiology at ASU and a professor in the Department of Basic Medical Sciences at the University of Arizona College of Medicine.
Matt, who earned bachelor's and master's degrees in biology from UD, received her doctorate in endocrine physiology from the University of Washington, Seattle. Her research focuses on the effects of stress, diet, aging and exercise on the neuroendocrine system.
Gamel-McCormick, who joined the UD faculty in 1995, began serving as interim dean in July 2008, when he succeeded Timothy K. Barnekov, who retired. He is professor of human development and family studies and associate director of the University's Center for Disabilities Studies. In 2001, he was appointed director of the disabilities studies center.
Gamel-McCormick received bachelor's degrees in child development and psychology from UD, a master's degree in counseling from the University of Wisconsin Madison and a doctorate in education and human development from Virginia Commonwealth University. He conducts research on the quality of early care and education programs, families from lower socio-economic backgrounds and their perceptions of early intervention services, and families of children with disabilities.