Honors program offers rewards and challenges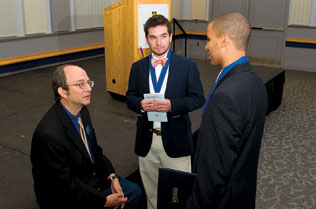 Photo by Kathy F. Atkinson
ON THE GREEN | The collegiate experience is different for all students. At UD, they can choose to be involved in athletics, Greek life or any of the 200-plus student organizations.
Amid the array of opportunities available, certain select students each year choose to enrich their academic experience through the University Honors Program. This past academic year, the program came under the direction of Alan Fox, professor of philosophy.
The Honors Program is described as a "rigorous and rewarding program, designed for superior students who want an intense intellectual challenge and are prepared to invest the extra effort required to be successful in a demanding curriculum." With his recent appointment as faculty director, Fox says that he has taken on a challenge of his own to elevate the Honors Program to the next level and that he is prepared to invest the extra effort to do so.
"Although I think of myself primarily as a teacher, and I am still committed to do as much teaching as possible, I am excited to be the new director of the Honors Program," says Fox, who teaches Asian and comparative philosophy and world religions. "Though I believe my credibility as director stems from my work in the classroom, [this position] suited me well because it created opportunities for me to reach a broader range of students."
Fox has a history of affiliation with the program as a faculty member teaching Honors courses, as well as a long list of recognitions as an inspiring and dedicated educator. He has twice received the University's Excellence in Teaching Award, has received the College of Arts and Sciences Outstanding Teacher Award and in 2006 was named Delaware Professor of the Year by the Carnegie Foundation for the Advancement of Teaching.
He recently was a finalist in the National Society of Collegiate Scholars' "Inspire Integrity Awards," which recognized him as an exemplar of both personal and academic integrity and as someone who has inspired students to achieve such qualities themselves. Fox's philosophy of encouraging students to reach higher and aim for bigger things was the theme of his award nomination.
"Not only do I respect students' abilities to think for themselves, I demand it of them," he says. "I set high standards for students, and more times than not, they meet them."
High standards mean more than just a certain grade-point requirement. Contrary to popular belief, Fox says, the Honors Program is not for all outstanding students but is specifically for those who want to stretch themselves academically.
"We want to get the message across that Honors Program students are those who prefer harder work and who are seeking out challenges, and who want to take advantage of more opportunities than just the basic requirements," Fox says.
On Honors Day in May, nearly 250 graduating seniors were presented special medals at an Honors Program celebration.
"You're here because you made a choice four years ago to challenge yourselves. You made a choice to test your limits and take advantage of everything the University of Delaware had to offer you," UD President Patrick Harker told the students, who all were candidates for honors degrees or honors degrees with distinction. "I thank you for setting an example, not just for your fellow graduates and the underclassmen who will come after you, but for all of us."
Many alumni of the program have achieved notable success in graduate programs and in various professional fields.
A 2008 honors graduate, Vivek Desai, who now is pursuing a doctorate in molecular biology at Princeton University, says he chose UD and the Honors Program for the opportunity to study in "a vibrant research environment." The program, he says, encouraged his undergraduate research, and its smaller class sizes allowed students "to interact closely with outstanding faculty and students who have an equal passion for learning."
Article by Blair Lee, AS '09M