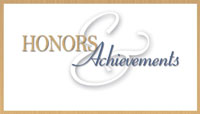 Ivar Stakgold, professor emeritus, and Pamela Cook, professor, both of mathematical sciences, have been named fellows of the Society for Industrial and Applied Mathematics. Stakgold was cited for his study of linear and nonlinear partial differential equations, and Cook, who has a secondary appointment in chemical engineering, was cited for her contributions to fluid mechanics.
Lynnette Overby, professor of theatre, received the 2009 Honor Award from the American Alliance for Health, Physical Education, Recreation and Dance. The Honor Award is given to nominees who demonstrate personal integrity and who have made significant contributions to the advancement of health, physical education, recreation or dance.
Three doctoral students in the College of Engineering—Elisa Schrank in mechanical engineering, Susan Brink in civil engineering and Andrea Naranjo in chemical engineering—received prestigious National Science Foundation Graduate Research Fellowships. Schrank is studying the use of ankle-foot devices by individuals with muscular weakness, Brink's research addresses infrastructure risk management in developing countries during natural disasters, and Naranjo is studying protein expression for biomedical applications.
Suzanne Burton, associate professor of music education—who teaches undergraduate music education students and graduate students who are music teachers themselves, in addition to working with preschoolers in early childhood music education programs—was honored as the 2009 Jessie B. DuPont Music Educator of the Year.
Svilen Bobev, assistant professor of solid-state and inorganic chemistry, received the 2009 ExxonMobil Solid State Chemistry Faculty Fellowship, which carries a $10,000 unrestricted grant and recognizes young, untenured scientists who have made substantial contributions to the discipline of solid-state chemistry and have the potential to emerge as leaders in the field.
Three doctoral students in the Department of Art History have received prestigious and highly competitive fellowships. Lynley Anne Herbert will be Carol Bates Curatorial Fellow at the Walters Art Museum in Baltimore, and Melody Barnett Deusner and Catherine Reed Holochwost will be Douglass Foundation Fellows at the Metropolitan Museum in New York.
Marsha Dickson, professor and chairperson of the Department of Fashion and Apparel Studies, was recently named chair of the monitoring committee of the Fair Labor Association, a collaborative effort to improve working conditions in factories around the world.
T. W. Fraser Russell, Allan P. Colburn Professor of Chemical Engineering, has been selected to receive the Lifetime Achievement in Chemical Engineering Pedagogical Scholarship Award from the American Society for Engineering Education. The award recognizes a "sustained career of pedagogical scholarship, which not only caused innovative and substantial changes but also inspired younger educators to new behaviors which benefit students in chemical engineering."
James Mueller, a doctoral student in marine studies, was selected as one of only 46 Dean John A. Knauss Fellows for 2009, working as a legislative assistant in Washington, D.C., for U.S. Sen. Maria Cantwell of Washington, who chairs the Senate Subcommittee on Oceans, Atmosphere, Fisheries and Coast Guard.
The American Physical Therapy Association's 2009 Steven J. Rose Excellence in Research Award for the best clinical paper in orthopedics has been won by a UD team for a study focusing on the controversial topic of managing anterior cruciate ligament (ACL) injuries. Authors of the paper are Wendy Hurd, a doctoral graduate of the Biomechanics and Movement Science Program, Michael Axe, clinical professor of physical therapy and an orthopedic surgeon, and Lynn Snyder-Mackler, Alumni Distinguished Professor of Physical Therapy.
Carlton Brown, assistant professor of nursing, has been named president-elect of the Oncology Nursing Society, a professional organization of more than 35,000 registered nurses and other healthcare providers that is the largest professional oncology association in the world.
Joshua Green, a senior in music theory and composition, won first prize in the Music Teachers National Association (MTNA) Composition Competition in the young artist category for his piece The Muse of Distraction. The award includes publication of the work by international music publisher Carl Fischer Music and a performance of the work at the National MTNA convention, in addition to other benefits.