Five receive UD's highest honor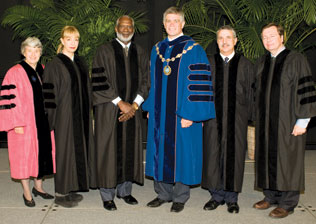 Photo by Kathy F. Atkinson
ON THE GREEN | Five honorary degrees were bestowed at Commencement ceremonies this year, in recognition of individuals whose contributions to the public good warrant exceptional recognition. Howard E. Cosgrove, chairman of the University Board of Trustees, presented the degrees to Thomas L. Friedman, Baroness Susan Greenfield, Carol E. Hoffecker, Charles R.E. Lewis and David Sacher.
Friedman is an author, Middle East specialist and three-time Pulitzer Prize-winning reporter and columnist for The New York Times. His first book, From Beirut to Jerusalem, won a National Book Award and an Overseas Press Club award. His most recent book is Hot, Flat and Crowded.
Greenfield, Oxford Professor of Physiology and a recognized expert on the physiology of the human brain, leads a research group studying such neurodegenerative conditions as Alzheimer's and Parkinson's diseases and is the author of The Private
Life of the Brain.
Hoffecker, who is Richards Professor Emerita of History at UD and a 1960 alumna, is a renowned historian of Delaware who has chronicled the state and its people in numerous books, including Corporate Capital: Wilmington in the 2oth Century and the children's textbook, Delaware, The First State.
Lewis, a 1975 UD graduate, is the award-winning founder of the Center for Public Integrity in Washington, D.C., a nonprofit, nonpartisan watchdog organization that investigates political influence and corruption. He continues to write, including the bestseller The Buying of the President 2004.
Sacher, a physician and public health advocate, served as surgeon general of the United States from 1998-2002 and was also assistant secretary in the Department of Health and Human Services. A champion of health care for the underserved, he works to draw attention to health disparities and to find solutions.