Delawareans win by losing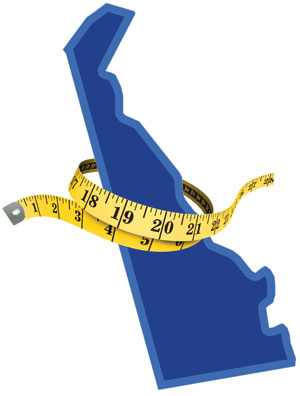 ON THE GREEN | Delaware may be a small state, but the results of its recent "Be Healthy Delaware: Ten Ton Challenge" turned up big results. The goal was for the state's citizens to lose 10 tons in 10 weeks, or the equivalent of an African elephant, two Smart cars, 10 refrigerators, 100 spare tires and 4,800 cheeseburgers.
The goal was not only reached but exceeded, with thousands of First Staters joining in to lose a total of 21,087 pounds between Jan. 20 and March 30.
Marianne Carter, HS '80, director of the Delaware Center for Health Promotion and a registered dietitian, says the mission of the center—sponsored jointly by UD and the state—is to encourage Delawareans to adopt healthier habits.
"We know obesity is a risk factor for many illnesses," Carter says. "Losing excess weight helps reduce your risk for preventable illnesses such as heart disease, type 2 diabetes and certain forms of cancer. Investing in prevention can save healthcare dollars and also increase residents' quality of life."
Beyond the 10-week goal, she says, "the main objective was to prove to participants that they can lose weight through small changes in their eating and activity habits." With support from The News Journal and Christiana Care, the Ten Ton Challenge provided the educational forum Carter was looking for.
She authored weekly articles and tips to get people moving and to help them change their eating habits a few calories at a time, asking participants to simply focus on one behavior change each week. About 2,500 readers reported their weights weekly; the average weight loss was 8.5 pounds over the 10-week period.
"This is perfect, especially since participants didn't feel like they were dieting," Carter says.
Here is an abbreviated version of the 10 weekly tips provided by the Delaware Center for Health Promotion and printed in The News Journal.
Week 1: Save calories by substituting lower-calorie alternatives for high-calorie foods or by simply eating smaller amounts. Saving 100 calories a day results in a 10-pound yearly weight loss.
Week 2: Control portion sizes by educating yourself about how much is too much and which foods are essential for good health at www.mypyramid.gov.
Week 3: Rethink your drink by reading the labels on your favorite beverages and replacing high-calorie drinks with lower-calorie alternatives. Better yet, drink water.
Week 4: Snack sensibly by selecting items in the 100-150 calorie range, allowing you to fend off hunger and prevent that ravenous feeling that leads to overeating later.
Week 5: Pump up the produce and eat lots of fruits and vegetables, which provide more "fullness" with fewer calories and are chock-full of disease-fighting nutrients.
Week 6: Limit the extras, which are such nonessential foods as fats, alcohol and sweets.
Week 7: Dine out carefully, using strategies to reduce total calories, including sharing an entrée or taking home a doggie bag and researching nutrition information online before you go out.
Week 8: Create a supportive environment by putting high-calorie foods out of sight, keeping your walking shoes next to the door and placing healthier foods front and center in the fridge.
Week 9: Learn from the masters by checking the National Weight Control Registry, www.nwcr.ws, for research and advice from individuals who have lost weight and kept it off.
Week 1o: Stay the course by continuing to practice healthier habits until they become routine. Celebrate small successes, and keep your eyes on the prize—a healthier you!
Article by Diane Kukich, AS '73, '84M