Campus TV facilities go national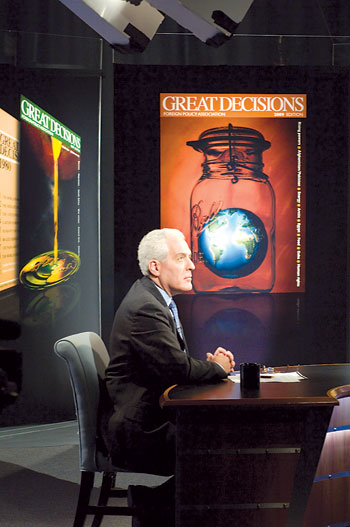 Photo by Kathy F. Atkinson
ON THE GREEN | The television series Great Decisions, which takes a comprehensive look at critical world affairs issues, now is produced at the University through a partnership with the nonpartisan Foreign Policy Association.
In its 24th season, the television series was initially produced in Washington, D.C., before it moved to New York City and then to UD in 2008, says Ralph Begleiter, Distinguished Journalist in Residence and Rosenberg Professor of Communication, who served as CNN's world affairs correspondent from 1981-99 and has been hosting Great Decisions for the past nine years.
Each episode takes on a different region or topic critical to an understanding of the changing world, offering insider tidbits and expert opinions. Last year, the series was available in 76 percent of U.S. households.
"The University of Delaware is pleased to partner with the Foreign Policy Association to provide the public in major television markets across the country with in-depth discussions by key authorities on major global issues," says Dave Brond, vice president for communications and marketing at UD. "It's a great opportunity for UD to demonstrate its commitment to a global presence."
For more, including a list of participating stations, visit www.udel.edu/greatdecisions.
The University also recently formed a groundbreaking partnership with Comcast to co-produce Comcast Local Edition, an original programming series offering a platform for open discussions on political and community issues most pertinent to Delaware.
The Local Edition interviews air daily on CNN Headline News at 24 and 54 minutes past the hour. The partnership affords full use of the University's Media Services production staff and state-of-the-art studio on campus. Comcast will coordinate guest appearances and promote UD's participation, activities and events.