Program offers career boost, global perspective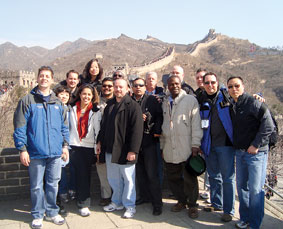 ON THE GREEN | Rick Lynch, BE '09M, speaks with disarming humility when asked about his remarkable career as a senior corporate executive and his success as a real estate investor, but he becomes far more animated when the topic of further education comes up.
Driven by his strong belief that education is a lifelong process and his dream to share his experience by teaching college students, Lynch, retired president of Trans Union Settlement Solutions and managing partner of Block Realty and Management, went back to school in 2007. He joined the University's 14th Executive Master of Business Administration (EMBA) cohort that August for the 19-month, internationally accredited program.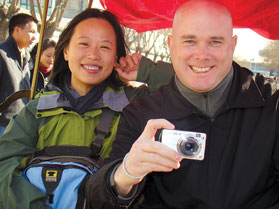 "I couldn't be more pleased with my choice of UD for my Executive MBA, and I absolutely couldn't have found a better cohort to accompany me through the challenges of the program," Lynch said after his return from a 10-day trip to China for the required international residency component at the end of the program.
Each cohort, built through a rigorous evaluation and interview process, is meant to provide a stimulating blend of diverse skills and experiences, which are critical in class discussions and team projects as the group proceeds through the program together, according to John Wragge, associate professor of accounting and management information systems.
"Interaction among such a strategically chosen, dynamic group of individuals is a key benefit of our EMBA program," says Wragge, who also is faculty director of executive programs for UD's Lerner College of Business and Economics. "In addition to gaining academic knowledge, the relationships that students forge throughout the 19-month experience extend into the professional arena."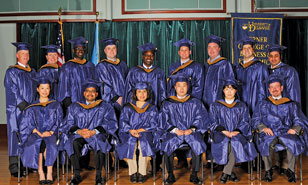 The value of an MBA grows by the day and gives experienced professionals a significant advantage, especially in a competitive job market, says Conrado "Bobby" Gempesaw, professor of economics and dean of the Lerner College.
"In today's global economy, an Executive MBA puts you ahead by enhancing your skills as a decision maker, critical thinker and leader with a broad view of the functional areas of business," Gempesaw says. "Most of our classes are taught by full-time Lerner faculty, who are experienced in teaching executives and are true leaders in their fields. Our faculty members conduct research in a wide variety of industries and organizations in order to form a comprehensive view of their subject matter."
Ajay Manrai, professor of business administration and faculty director of graduate and executive programs in the college, says the most important feature of any MBA program is the practicality and quality of its curriculum.
"In response to ongoing surveys and focus group research, feedback from the business community and our students, we have fine-tuned the EMBA curriculum to better prepare EMBA graduates for success in a competitive global business environment of the 21st century," Manrai says.
The program runs through 45 weekends spread over 19 months with the summer off. Classes are scheduled to meet the needs of experienced, working professionals, with five nine-week semesters, each with a format of three weekends of class followed by one weekend off. Classes are held on Friday evenings and all day Saturday at the UD campus on Pennsylvania Avenue, about two miles from downtown Wilmington, Del.
"The structure of our program allows for completion of your degree in a timely manner while recognizing that you have ongoing professional and family commitments," Paul Rollison, EMBA program manager, says.
"After the initial five-day residency in Lewes, Del., the cohort embarks on five semesters of coursework, a demanding endeavor that requires understanding and support from family members. We host a number of special events and social activities that include family members to help familiarize them with the program, the faculty and other members of the cohort and their families."
Nate Hoover, BE '09M, product manager at W.L. Gore & Associates, who delivered the valedictory speech during a convocation ceremony for the 14th EMBA cohort in March, paid tribute to his wife, Jen, for being by his side throughout the program, which he likened to the Philadelphia marathon they once ran together.
He said that despite the demands of the program, the format afforded him a great balance of work, family, travel and the rest of daily life. At the same time, he said, the application of the concepts and the importance of the content "proved invaluable in these uncertain economic conditions and the tenuous business environment we live in today.
"After each weekend of class, I found myself better prepared to navigate through these unprecedented times than the prior week," Hoover said. "This is a testament to the quality of the professors and the diversity of experience my colleagues have. Without question, I am equipped to lead my business with more confidence than I would have been without this robust curriculum."
Jin Qian, who also graduated with the cohort in March and who is a project manager at Merck & Co., says the EMBA program gave her more confidence to take on new responsibilities at work and even venture into new territories, such as starting her own business.
"The rigorous curriculum taught by dedicated faculty really expanded my knowledge base and broadened my horizons," Qian says. "I also feel very fortunate to have had the opportunity to study and work with my talented classmates. I have learned a lot from their dedication and business experiences. I definitely will keep them as my close contacts so that I can continue to get their help and advice."
In addition to the anecdotal evidence of enhanced confidence and increased skills, results from a 2008 national study by the Executive MBA Council showed that:
• Students who participated in the survey reported a 23 percent salary increase. Students' salaries rose from a mean of $117,617 when entering their Executive MBA Program to $144,361 after completing the program.
• While 37 percent of students in the survey expected a promotion, 43 percent of students received a promotion while enrolled in the program.
• Nearly three-quarters of students in the survey said they greatly increased their value to their organization as a result of their Executive MBA education.
At UD, the 19-month program was certainly arduous, but the course content and class structure "made the time seem to just fly by," Lynch says.
"From learning about the intricacies of financial statements, portfolio valuation, linear programming and price elasticity to robust discussions on the global economy, corporate governance and organizational structure, among many others, the program, along with the incredible dedication and preparedness of the instructors, far exceeded my expectations," he says.
Since the Lerner College started offering the EMBA program in 1994, more than 300 professionals have graduated from it. For more information, visit www.emba.udel.edu.
Article by Martin A. Mbugua, BE '09M