Festive weekend
launches a
new tradition
More than 1,700 alumni from across the country returned to campus June 5-7 for the University's first Forum & Reunion Weekend, which provided them with the opportunity to reconnect with friends, faculty and their alma mater.
The event featured reunion activities, showcases highlighting some of UD's best and most intriguing programs and experts, and a series of "Dela-bration" festivities, including two large parties, a 5K race and an international luncheon.
A centerpiece of Forum & Reunion Weekend was a Town Hall meeting, during which President Patrick Harker gave a "state of the University" address, and a keynote address by nationally known motivational speaker Pat Williams.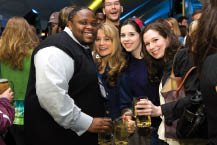 Photo by Ambre Alexander
"It was great to have so many of our alumni return to campus and reconnect with their friends and former faculty members," says Cindy Campanella, EP '84, director of alumni relations. "Many alumni thanked us for having the event, and it was a thrill for us in the Alumni Relations Office to see everyone having such a great time."
The weekend opened Friday evening, June 5, with a variety of college receptions and ceremonies, culminating with the well-attended Mug Night on The Green, an all-you-can-eat-and-drink party featuring live music by Love Seed Mama Jump and a commemorative mug for all the adults attending.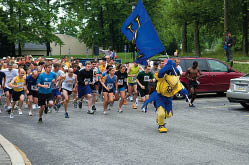 Photo by Doug Baker
Saturday morning's inaugural Blue Hen 5K, benefiting the University's scholarship fund, attracted about 300 runners and walkers to the course along Creek Road. The full day culminated with entertainment by Internet sensation Judson Laipply, known for his widely viewed "Evolution of Dance" video, and an all-alumni tent party on The Green with dance music by The Fabulous Greaseband.
"It's a great event and I hope they do it again next year," George Sestak, EG '72, said at Saturday night's gathering. "I'm a UD graduate and I love the University!"
For former classmates and close friends Elizabeth Perry, AS '04, and Catherine Miller, BE '04, the weekend was a perfect time and location to see each other. Perry lives in Washington, D.C., and Miller in Manhattan, so they said they decided to stay on campus in a residence hall that was opened for the occasion and attend as many events as possible.
"This is only the second time I've been back since I graduated, and I'm having so much fun," Perry said at Saturday's picnic lunch. Miller agreed: "Five minutes after I got here, I ran into someone I knew," she said. "It's been great."
Another pair of old friends, Ed Jackson and David Smith, both AS '84, were both physics majors and good friends during their undergraduate years but hadn't seen each other in about 20 years, they said.
Jackson, who lives in Newark, Del., registered early for Forum & Reunion Weekend, and then he got a card from Smith, who lives in Randolph, N.J., saying he was planning to attend. The two got together Saturday and caught up.
The honor of traveling the farthest to the weekend goes to Joann E. Kingsley, AS '96, '99M. A human rights worker, Kingsley now heads the Danish Refugee Council office in Jaffna, Sri Lanka. A visit home to the United States coincided with Reunion Weekend, and she was able to attend the All Alumni Dance Party Saturday night.
For more news and photos from Forum & Reunion Weekend, visit www.udel.edu/ocm/forum.
Sessions showcase UD programs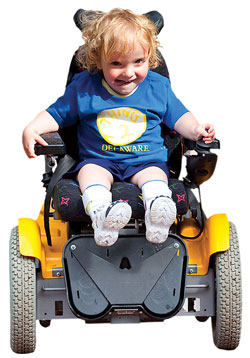 Photo by Kevin Quinlan
Close to 50 people turned out on the Saturday afternoon of Forum & Reunion Weekend to see 2-year-old Andrew Peffley driving around in front of Mitchell Hall.
Andrew, who has spina bifida, can't walk, but a team of UD researchers is providing him with mobility through the use of a miniature power chair armed with a robotic brain that keeps him safe and empowers him to explore the world while also providing valuable data to the researchers. Cole Galloway, associate professor in the Department of Physical Therapy, is collaborating with Sunil Agrawal, professor of mechanical engineering, on the project.
"These kids traditionally have to wait until they're 3-5 years old to get power chairs," Galloway told the audience attending the "UD Showcase" hosted by the College of Health Sciences. "But in normal development, kids are exploring the world long before [that age]. Early mobility is when cognition, perception, socialization and language development all skyrocket."
The collaboration with Agrawal is helping babies like Andrew move when they want to, where they want to. "Those abilities are integrally connected to the joys of life," Galloway said.
The demonstration was one of numerous showcases available to those attending the weekend. Sponsored by all seven colleges, Professional and Continuing Studies, Admissions and the UD Library, the interactive sessions covered a variety of topics and interests, from retirement planning to conducting genealogical research, preserving family photos and learning energy-saving tips.
For more about each showcase, visit www.udel.edu/ocm/forum.
Keynote speaker urges lifelong learning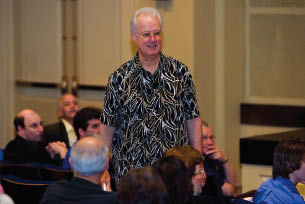 Photo by Ambre Alexander
Pat Williams' team was in the midst of the NBA championship series on June 6, but he traveled to Forum & Reunion Weekend nonetheless to deliver a talk full of challenges to those in attendance.
The senior vice president of the Orlando Magic, Williams is widely known as a promotional and marketing expert, an author and one of America's top motivational speakers. He first urged alumni never to stop learning.
"The minute you get your diploma, your learning experience is just beginning," he said to the audience that included alumni from the classes of the early 1950s through the newest graduates, who had received their diplomas at Commencement just one week earlier. As the world's body of knowledge grows at an increasingly fast pace, Williams said, the challenge is to "become a lifelong learner" so as not to be left behind.
One way to reach that goal, he said, is to continue with formal education, earning a graduate degree or taking other courses, perhaps through distance learning. For those who choose not to return to school, Williams then suggested another way to continue learning.
"Your mind, like mine, is a muscle," he said, "and muscles need exercise." He told the audience that the best piece of exercise equipment for the brain is a book and the best mental workout is to read daily. He encouraged those in the audience to read widely, but only on subjects that interest them. After a year, he said, such a reader can have expertise in 10 different subjects and after 10 years, 100 subjects.
"Start today, and read one hour every day for the rest of your life," Williams said. "The best part is that the books are not assigned. You get to pick them."
Alumni encouraged to stay involved
Speaking to several hundred alumni and friends at a town hall style gathering in Mitchell Hall, UD President Patrick Harker welcomed the audience to Forum & Reunion Weekend.
He began by saying that he expected the event to become an annual tradition.
"Tell your friends," he said to those who applauded the previous evening's party on The Green that drew about 1,700 participants. "This is part of the tradition. You are the lifeblood of the University. We need you to be involved."
The bonds formed at UD, Harker said, "aren't just a four-year experience. They're a lifetime experience."
He gave alumni an overview of some recent changes on campus and a preview of some short-term and long-range plans, including what he called "our most critical need," the construction of a new science and engineering building. With UD's widely recognized expertise in those fields, a new facility is key to attracting students, supporting research and developing the knowledge for scientific innovation that is needed by Delaware and the nation, he said.
"You can't have sustained economic growth in a region without a great university behind it," Harker said.
Weekend becomes a family affair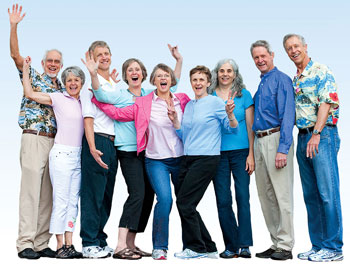 Photo by Kevin Quinlan
June 5-7 featured one big reunion on campus as some 1,700 alumni returned, but it also included plenty of smaller get-togethers. Old friends met up by accident or design at the University's first Forum & Reunion Weekend, professors mingled with former students, and special events were held for the reunion classes of 1959, 1984, 1999 and 2004.
And one group of alumni turned the event into a family reunion as well.
"I think the Tordellas are the largest family of brothers and sisters who are UD graduates—seven out of nine are alumni," says Kevin O'Connor, AS '68M, who married Kathleen Tordella, AS '68, and who worked for the University for a time after earning his master's degree. "When you add those who married into the family, there are even more. We are claiming the record until another family comes along." (To challenge the record, contact the Office of Alumni Relations at [302] 831-2341.)
The Tordellas' commitment to return to UD began with a chance encounter. When their rental car broke down in Newark in February, the O'Connors, who live in Colorado and were in the area for a family anniversary, dropped by Alumni Hall and learned about Reunion Weekend.
The "super seven siblings" and two spouses who attended the reunion were (from left in photo) Kevin and Kathy O'Connor; Daniel Tordella, AS '75; Susan Tordella Williams, AS '79; Jean Tordella, HS '69; Mary Tordella Ruckh, HS '76; Margaret Frick Tordella, AS '71, whose father, the late George Frick, was a professor of history at UD, and her husband, Stephen Tordella, AS '73; and Paul Tordella, AS '74. Representing the next generation is Brian "Joey" Tordella Jr., EG '06.
The siblings grew up in Wilmington and now live in Florida, Colorado, Wisconsin, Massachusetts and Delaware, but they all made it home for the reunion.