Outstanding seniors earn recognition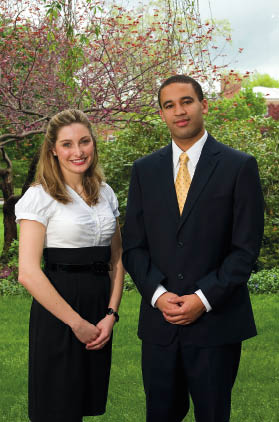 Photo by Kathy F. Atkinson
ALUMNI | Two student government partners, who traded president and vice president roles during their final two years at the University, were selected by the UD Alumni Association as the outstanding man and woman of the 2009 graduating class.
The honors went to Teagan Gregory and Cassandra (Casey) Patriarco as the respective recipients of the Alexander J. Taylor Sr. and Emalea Pusey Warner awards. In addition to their leadership of the StUDent Government Association, both honorees also excelled in academics, participating in the University Honors Program, and share a commitment to public service.
Gregory, from Newark, Del., majored in political science and international relations, with minors in East Asian studies, philosophy and religious studies, and will attend law school in the fall.
A dean's list student every semester, Gregory maintained a GPA above 3.9 and was one of 12 students in the Class of 2009 to be awarded a Eugene DuPont Memorial Distinguished Scholarship. He also was a member of the Delaware chapter of the Phi Beta Kappa honor society. Gregory was a DelaWorld leader for new student orientation, a LIFE peer mentor for freshmen, a student admissions officer and a Blue Hen Ambassador.
"Teagan combines his intellectual abilities with a likable, down-to-earth personality," says Katharine C. Kerrane, senior associate director of the Honors Program. "He is fun to work with and actively works to put other people at ease."
Gregory will attend the University of Michigan Law School, where he is considering pursuing a simultaneous master's degree in public policy. He says he hopes to return to the Delaware area in the future to practice law, get involved in politics and possibly run for office some day.
"If my UD experience has taught me one thing, it is that any one person can effect real change and make a difference," Gregory says. "I'd love to do that in the community that I've grown up in and love."
Patriarco, of Allentown, Pa., majored in English education, with minors in history and philosophy, and will join the Teach for America corps in Washington, D.C., next school year.
She earned a GPA above 3.9, was on the dean's list every semester and was awarded the 2008 Delta Kappa Gamma International Society Award for demonstrating outstanding scholarship, participating in educationally relevant activities and exhibiting future promise in education. Patriarco also received the Frank B. Murray Scholarship Award from the School of Education's Alumni Association and the Outstanding Female Leader Award. She served as an honors DelaWorld orientation assistant during the summers of 2007 and 2008.
"Casey is gracious, fun and personable," Kerrane says. "She is a delight to work with—one of those memorable students who comes along once in a great while."
With Teach for America, Patriarco will be teaching secondary school English. She says she also plans to explore opportunities in the fields of education policy and teacher education reform. Her undergraduate work included research on how teacher education programs can bridge the gap between coursework and early field experiences.
"I believe my research experiences will prove invaluable in the pursuit of future graduate studies or work in the fields of education policy or teacher education reform," she says.
Article by Ann Manser, AS '73