Honors for four accomplished graduates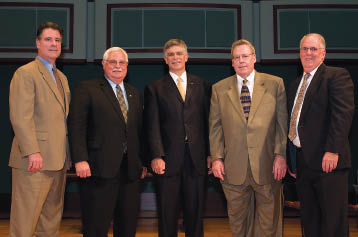 Photo by Kathy F. Atkinson
ALUMNI | Four UD graduates are the newest inductees into the Alumni Wall of Fame, an award honoring members of the University Alumni Association from around the world who have distinguished themselves in professional and community endeavors.
Robert D. Fleck, EG '69, Francis "Skip" Gardiner Jr., EG '62, Spangler "Buzz" Klopp, AG '66, '68M, and David Plastino, AS '78, were inducted in a ceremony at Honors Day in May.
Cindy Campanella, director of alumni relations and a 1984 graduate, told the audience at the ceremony that the honorees' professional accomplishments both testify to and enhance the value of a UD degree and "inspire fellow alumni and current students alike."
President Patrick Harker noted that the Wall of Fame was established 25 years ago and called the four new members "worthy of this silver anniversary." Their achievements make the University proud, he said, and "enlarge our reputation and expand the good we do in the world."
The ceremony also included remarks by students Teagan Gregory, who received the 2009 Alexander J. Taylor Sr. Award for the outstanding senior man, and Casey Patriarco, who received the 2009 Emalea Pusey Warner Award for the outstanding senior woman. Like the Wall of Fame honors, the Warner and Taylor awards are given annually by the UD Alumni Association.
The new inductees, who were selected from 140,000 graduates, bring the number of names on the wall to 219. Among the initial Alumni Wall of Fame inductees were Revolutionary War heroes and signers of the Declaration of Independence and the Constitution, as well as physicians, engineers and authors.
Fleck is the founder and president of Oak Knoll Books and Oak Knoll Press, an antiquarian bookstore and internationally renowned publisher, based in New Castle, Del. He is recognized worldwide as an expert on the history of the book and book arts.
Gardiner is president of Gardiner Realty and Development Co. in Crofton, Md., focusing on the development of commercial projects. He began his career as an engineer and superintendent for the family commercial construction firm that later became Gardiner and Gardiner Inc.
Klopp, one of the world's leading experts on avian pathology, is the consulting veterinarian for Townsends Inc., a poultry and agricultural products company. Klopp is a co-recipient of the Medal of Outstanding Achievement from the Delmarva Poultry Industry for his work developing a technique of vaccinating hens.
Plastino, the senior vice president of investments at UBS Financial Services in Philadelphia, previously was vice president of investments at Goldman Sachs. He supports six chemistry and biochemistry undergraduate researchers at UD
each summer and has established the Plastino Scholars Program.