Mom balances work, family, community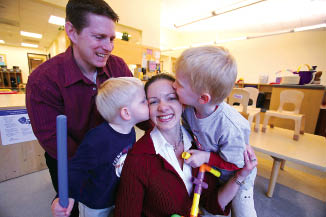 Photo by Ron Soliman/News Journal
ALUMNI | An information systems project manager with two young children is one of the nation's "top moms" selected recently by Working Mother magazine.
Vivian (Bennett) Fresco, BE '94, '99M, was one of 30 mothers across the U.S. featured in the magazine's May issue and honored at a celebratory dinner in New York City on Mother's Day weekend. The magazine, known for its annual list of the nation's 100 best companies for working mothers, this year marked its 30th year of publication by choosing 30 successful women who have both careers and children.
Fresco, who works at the AstraZeneca pharmaceutical company's headquarters in Delaware, was nominated by her husband, David Fresco, HS '95. They live in West Chester, Pa., with their preschool-age sons, Ryan and Kyle.
Working Mother cited Fresco for balancing her career and family life, as well as finding time for service projects, such as leading a drive in which donors gave more than 1,000 movies to hospitals for patients to view. At AstraZeneca, one of the projects she managed involved supplying thousands of the company's employees in China with laptop computers.
"For me, balance is finding fulfillment in every aspect of my life," Fresco told the magazine. "I feel the most fulfilled when I know that I am making a positive contribution to my organization and my community, while keeping my family's needs my top priority."
Fresco, who began work at AstraZeneca in 1997, earned her master of business administration degree at UD two years later. She also is a former adjunct professor at the University.