At census bureau, they're up for the count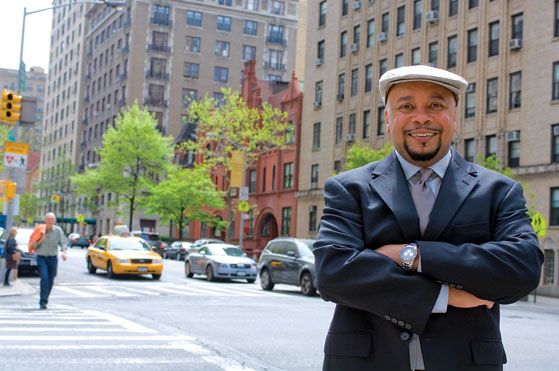 Photo by Jon Cox
ALUMNI | From a young age, Tony Farthing, AS '80, has had a passion for maps, geography and public transportation. His parents have told him that when he was little, he was already building miniature cities and planning routes for the family when they traveled.
And so, Farthing says, working at the U.S. Census Bureau has been "a natural fit."
He has worked there since high school, first through a fellowship program and then as a geographer after he graduated from UD. In 1988, he decided to map a new route in his career, partly inspired by opportunities he had experienced as a geographer but also by his time at the University, where he was a manager of the basketball team and a resident assistant.
"I started to see this other side of myself where I enjoyed working in supervision and management," he says. "I've always enjoyed working with people."
Today, Farthing is the director of the New York region of the Census Bureau, one of 12 regional offices in the country. The regional offices are where most of the data collection is done for the numerous surveys that are conducted across the country, including the decennial census. The 2010 census will be the third on which Farthing has worked.
He directs what he calls the "command center," which manages and operates the 2010 census for the New York metropolitan area.
As Farthing gears up for the census, he is eyeing April 1, 2010. On this date, the bureau will ask all U.S. households to stop and make sure they've completed the census forms that were distributed in March. For those forms not filled out and returned, Farthing will hire an army of people to knock on doors. Nationally, he says, the Census Bureau will be one of the country's largest employers in 2010, hiring more than 1.4 million temporary workers.
In the New York region, Farthing will open 33 local census centers, each with about 75-125 office workers and 800-1200 census takers.
In addition to the command center, Farthing is in charge of a separate office that distributes surveys regarding unemployment, health, crime and other data.
Farthing's office interviews as many as 5,000 households a month for the specialized surveys, and he says persistence is the key to his staff's success. His area is the smallest in physical size, but he says it is challenging to get surveys filled out because New York City is so diverse and vertical.
"In some other places, like Kansas, you can drive up to a house and you can see if a car is parked in the driveway or if the lights are on. Everybody kind of comes home at a certain time," he says.
The "city that never sleeps," he points out, is different: "You just have no idea what time people will come home. You can barely get in the building because it's locked and nobody will buzz you in, all kind of things like that. So it makes our job a lot
more difficult."
Article by Jon Bleiweis, AS '10