Executive advises future entrepreneurs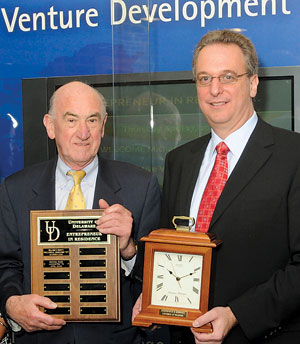 Photo by Danielle Quigley
ALUMNI | No amount of academic education beats being prepared for the unexpected, Michael Bass, BE '79, executive vice president and chief operating officer of La Dove Inc., told UD students in April.
Bass spoke as part of the Entrepreneur in Residence program, which brings successful entrepreneurs to campus to spend one or two days working with individuals and small groups of faculty and students.
"Be prepared," Bass said. "You can write the best business plan, but if you are not ready to make decisions when it counts, you will have issues." He recounted his experiences early in his career when he worked with difficult accounts and bad clients. He encouraged the students to take on challenges and learn from them.
La Dove is a full-service research facility and a formulator and manufacturer of personal care products for both the professional and retail markets. Bass joined the Miami-based company in 1999 and partnered in the transition of the firm from an exclusive brand manufacturer to a multi-channeled hair care supplier.
Bass previously was director of manufacturing operations for Pfizer Animal Health, director of manufacturing operations for SmithKline Beecham Animal Health and a senior accountant with Coopers & Lybrand.
Bass said his campus presentation was a bridge between the real world and academic knowledge.
The Entrepreneur in Residence program, which is offered by the University's Office of Economic Innovation and Partnerships, is designed to create entrepreneurial excitement among faculty and graduate and undergraduate students who would like to learn the ins and outs of establishing a commercial enterprise.