Appletree branches out to make dreams come true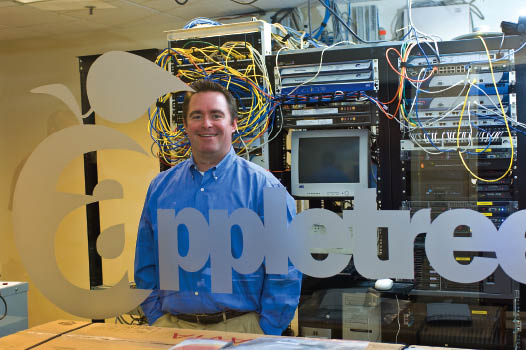 Photo by Jon Cox
ALUMNI | If you think you're too small to have an impact, try going to bed with a mosquito in the room." That's one of my favorite quotes, from Anita Roddick, the late British business executive, human rights activist and environmental crusader.
My business, Appletree Answers, is an integrated communications center with 13 locations throughout the U.S. I started the company in 1995, three short years after graduating from UD with a bachelor of science degree in business administration. The company has grown to 350 employees and $17 million a year in revenue.
There was a glitch, however—front line employee turnover—which is a major problem endemic to the call center industry. We fell within the normal industry average with 97 percent turnover in our "front line," or hourly call center agent, positions. Front line turnover is expensive, and it's insidious when it comes to delivering great service. New agents on the front line are just not as good as seasoned veterans, and we were feeling the pain both in increased hiring costs and customer issues.
It was time to make a change.
That change was the creation of "Dream On," a program that mirrors the Make A Wish charity but for internal employees. Every employee at Appletree has the opportunity to submit a "Dream" to a review board. There is no limit at all on the size and scope of the Dream. We try to leverage our network and resources to grant as many as possible.
In six months, we cut employee turnover from 97 percent at the front line to about 33 percent, which is nothing short of amazing. I estimate we will save nearly $1 million in hiring and training costs in 2009 as a result of this program, but still it sounds like a run-of-the-mill, albeit very successful, corporate initiative.
But that is where the story gets interesting, and the realization hits that each of us has the potential to dramatically impact the lives of others. Here are just a few examples of the 25 Dreams granted to date:
We had two employees who were homeless and living in their cars with their families. Their Dreams were granted, and now they both have new apartments.
An employee's husband has a very serious and potentially terminal illness. Her Dream was granted, and the two were able to attend an NFL game and meet the entire football team afterward.
We even had an employee, with a very great need of her own, ask to change her own Dream to instead help a total stranger, a mother of a child fighting cancer. The mother was unable to afford time off from work to be with her daughter, so both their Dreams were granted, with Appletree covering one month of their living expenses.
There are countless other great stories to tell, but the bottom line is that I am honored and humbled to be part of the program. We now have a company culture where our employees look to do things for each other and are "paying it forward" every single day. We have set in motion a series of events that have had a more powerful impact than I could have ever even begun to anticipate and that I hope will exist long into the future.
John Ratliff, BE '92
Businessman answers the call of success

Even before John Ratliff initiated his groundbreaking "Dream On" program at Appletree Answering Service, the business he founded in Wilmington, Del., in 1995, the company was growing at a rapid pace and attracting notice.
Appletree, which provides answering services and call-center services for its clients, has maintained at least 30 percent growth in revenue for the past eight years and was recognized in 2004-2008 by Inc. magazine as one of the country's fastest growing privately held businesses. On a regional level, the company was inducted into the Philadelphia 100 Hall of Fame, earning the award as one of the fastest growing businesses for five straight years, from 2004-2008.
A significant factor in Appletree's growth has been the acquisition of existing answering services, Ratliff says. In May 2003, he purchased his first regional expansion in Pensacola, Fla., and has since acquired sites from Maine to Puerto Rico and Virginia to California. Appletree currently has 342 employees, more than 200 of them working full time, at its 13 locations.
Ratliff was chosen as one of 20 U.S. entrepreneurs to attend the "Birthing of Giants" leadership forum at the Massachusetts Institute of Technology. He was selected by the MIT Enterprise Forum, Inc. magazine and the Young Entrepreneurs Organization.
In addition, Ratliff and Appletree participate in a variety of local nonprofit organizations that provide food, clothing and household items for needy families.
During the 2004 Asian tsunami disaster, Appletree agents donated their time and salary to the relief fund, providing 500 hours and 40,000 calls taken at no charge to the Red Cross. The company also provided call center services to the Red Cross in the aftermath of the 9/11 terrorist attacks and hurricanes Katrina and Rita, and Ratliff was instrumental in forming a committee that raised more than $100,000 to benefit front line call center agents affected by those hurricanes.