A supreme legal experience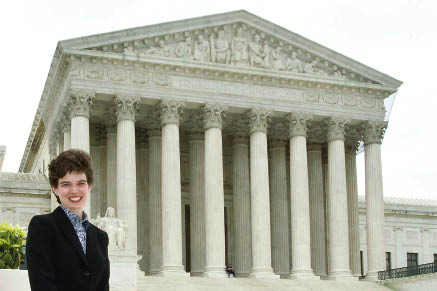 Photo by Steve Petteway, collection of the Supreme Court of the United States
ALUMNI | For the past year, Claire Evans, AS '98, has gone to work with a feeling of wonder, knowing that she is working on legal issues that have national importance.
The 2002 Rutgers University School of Law graduate recently completed a one-year clerkship at the U.S. Supreme Court, an experience she calls "awe-inspiring and humbling." Serving as a clerk for Justice Clarence Thomas, she says, has given her "the opportunity to see his keen intellect, integrity and generosity firsthand."
Evans majored in art history and art conservation at UD, where she says she had a wonderful experience and outstanding professors, but her career plans changed course after graduation and she went on to law school. After graduating from Rutgers in Camden, N.J., she held a series of federal positions.
Among them were clerkships in the federal district court in New Jersey and the U.S. Court of Appeals for the Third Circuit. The appeals court job was cut short when the judge for whom she was working, Michael Chertoff, became secretary of Homeland Security, and Evans moved to Washington to work in that department. She later worked in the U.S. solicitor general's office and the Department of Justice's criminal division.
She began work at the U.S. Supreme Court in July 2008 and completed the clerkship this July.
"It is a tremendous honor and privilege to clerk for Justice Thomas and to work at the Supreme Court," Evans says. "It has been a lot of hard work, but the clerkship has certainly exceeded my highest expectations."