Artist gaining fame for unique portraits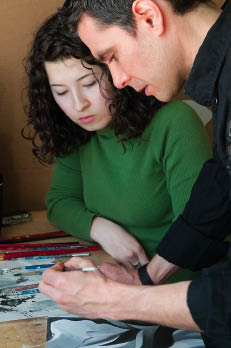 Photo by Evan Krape
ALUMNI | David Brinley paints with pizzazz. His clear-cut, colorful, definitive paintings frequently convey messages about his subjects using symbols in the background.
"I paint iconic metaphors and add to the background to my portraits to create a story," says Brinley, AS '94, assistant professor of art at UD.
His paintings connect with audiences and the public as his success as an illustrator attests. His work has appeared in some 70 publications, including Newsweek, Playboy, Sports Illustrated, Rolling Stone, The Wall Street Journal, American Lawyer and others. He is an artist member of the Society of Illustrators, and his works have appeared in solo and group exhibitions in Los Angeles, Philadelphia and New York.
Earlier this year, when Time magazine was planning its special issue, "The Time 100—The World's Most Influential People," editors turned to Brinley to paint a portrait of one of those people, Oprah Winfrey.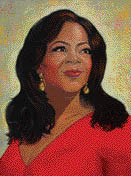 The commission came of the blue, Brinley says, although he had done other work for Time. He recalls that the first thing he did after being asked to do the portrait was to rush to the TV and tune into The Oprah Winfrey Show, to study her famous face from an artist's point of view. Painting Winfrey was a special honor, he says, because she is the only one of the Time honorees who has been included every year since the special issue began.
"I ran with the sketch, did it quickly, using my wife as a model for lighting and position, sent it in and had it approved with no changes," Brinley says. He then worked on the finished painting for two or three days.
Winfrey, described in the magazine as a "global media leader and international philanthropist," actually was featured twice in the issue. Not only was she honored in the "Heroes and Icons" section, but she wrote an essay on another honoree, Michelle Obama.
Other recent high-profile work has included Brinley's portrait of British pop star and singer Lily Allen, which appeared in the Feb. 19 issue of Rolling Stone magazine in a review of her album It's Not Me, It's You.
"Lily Allen is so British that in the background I included the English accoutrements of fame—a large brick country house and a low-slung limo and white peacock feathers, symbols of her pride. I used a synthesis of photos for the image of her face and her trademark hoop earrings and patterned dress," Brinley says.
He says he's been interested in art and painting as long as he can remember. He earned a degree in fine arts in 1994 at UD, where his core teachers were Stephen Tanis, Charles Rowe and Bryn Barnard.
Brinley went on to study at the Art Center College of Design in Los Angeles, where he graduated with distinction, then freelanced in California for a time before moving to New York.
Today, he says, he likes being back at the University and living in Delaware: "I truly enjoy teaching. Painting is a solitary activity, and teaching and interacting with students gives me balance."