A is for Appleyards … alumni active in advertising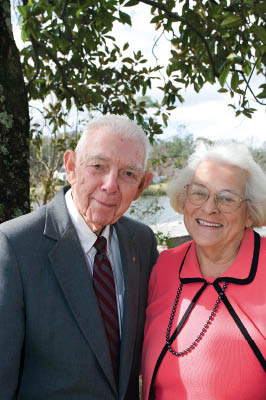 Photo by David A. Carroll
ALUMNI | Double Dels John Appleyard and Eleanor Kriebel Appleyard were multi-taskers decades before the phrase became a common one.
They had to be. When John, AS '47, and Eleanor, EP '44, opened an advertising agency in Pensacola, Fla., a half-century ago, they wrote the copy, set type, wooed clients, developed marketing strategies, gave presentations to clients, produced newsletters and were the voices in radio commercials. Eleanor also did the agency's accounting, kept the books and paid the bills.
At first, their office equipment consisted of typewriters for two, but as the business grew, they soon developed a studio with recording equipment for making radio spots and filming and editing TV ads, a fairly new medium at the time, using 16mm film.
"We had sound effect recordings for everything from a dripping faucet to a small war," John recalls. The only job they didn't do themselves was the artwork. "Neither of us had any artistic talent," Eleanor says.
Before opening their agency, the Appleyards' first venture into the public relations and advertising field was their involvement in Pensacola's quadricentennial in 1959, a yearlong celebration marked by a replica of the region's third Spanish settlement, a history museum, festivals and special events. Based on what they learned from that experience, the Appleyards opened up their agency. This year, they have come
full circle and are involved in Pensacola's celebration
of its 450th anniversary.
Appleyard Agency has grown from three accounts 50 years ago to more than 60 now. The agency's clients are in such fields as health care, banking, real estate and utilities. Some are national organizations, which kept John on the road traveling for many years.
The agency is now run by the next generation—son Dick Appleyard, who is president, daughter Diane and daughter-in-law Carolyn, who has taken over Eleanor's duties.
John Appleyard, now well into his 80s, has advice for entrepreneurs. When he graduated from UD, he went to work for Armstrong Cork. The company was undergoing a strike, and his boss said to the group of new employees, "Someday you will probably be managers, and the most important thing to focus on is the survival of the enterprise." John says he took that advice to heart, and Appleyard Agency has not only survived but thrived.
John's other recommendation is to know about finance, handling money and paying bills up front.
Eleanor, a home economics major from Pennsylvania, and John, a history and economics major from Illinois, met at UD, where John had been sent for training during World War II with a group of reservists. At a campus dance for the visitors, Eleanor drew John's name from a hat as her blind date for the evening, an act that began their lifetime together.
Today, John is still a history buff, and Appleyard Agency remains a fixture in Pensacola, where it is known for its contributions to local charities and organizations.
Article by Sue Moncure