Super season for some former Hens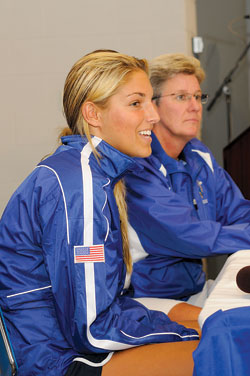 Photo by Duane Perry
SPORTS | This has been a season of headlines for UD athletes, from Joe Flacco being named the Baltimore Ravens' starting quarterback to Mike Koplove winning a bronze medal with the U.S. Olympic baseball team to Elena DelleDonne, one of the top women's basketball players in the nation, announcing that she will compete in volleyball for the Blue Hens.
Flacco's promising National Football League career opened with the 2007 NCAA Division I Football Championship Subdivision All-American winning his first two starts for the Ravens and losing the third in an overtime game to the host Pittsburgh Steelers on ESPN's Monday Night Football. As was the case at Delaware, Flacco has shown a strong arm and a great deal of poise for the Ravens.
Flacco is among several Blue Hens in the NFL. In fact, he had too close an encounter with one, defensive back Mike Adams of the Cleveland Browns, who intercepted a Flacco pass in a game the Ravens won 28-10. Adams is among the team leaders in tackles.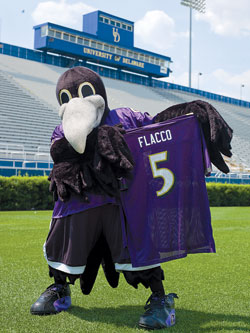 Photo by Kathy F. Atkinson
Another Blue Hen in the NFL is tight end Ben Patrick, who has seen playing time for the Arizona Cardinals and enjoyed a four-catch game against the Miami Dolphins. Not playing but with an important role for the Denver Broncos is former Blue Hen Bob Slowik, who serves as the team's defensive coordinator.
Koplove is a former Blue Hen pitcher who played on the world's largest stage at the Beijing Summer Olympics as a member of the national baseball team that took third place. He appeared in four of the U.S. team's nine Olympic games, working 5.1 innings without allowing a hit or a run.
A new Blue Hen much in the news is DelleDonne, who was once called "the LeBron James of women's basketball" but who has opted to play volleyball for UD.
DelleDonne, a high school All-American, had originally signed to play basketball at the University of Connecticut but returned home in June for personal reasons. She then applied to UD and was accepted as a full-time student on Aug. 18, majoring in early childhood education.
"I am looking forward to starting classes and following my mom's path since she is a Blue Hen alum," DelleDonne said during an August press conference in which she thanked UConn and Coach Geno Auriemma for their support as she made her decision. "I would also like to thank the Delaware volleyball program… It is comforting to know that I have been welcomed into an extended family in such a short amount of time."
Delaware Head Coach Bonnie Kenny thanked Auriemma for releasing DelleDonne to play elsewhere. I applaud Elena for being mature and brave enough to come to the conclusion that this is where she wants to be and this is what she wants to do," Kenny said. "The University of Delaware and its volleyball program are the beneficiaries of her decision. "
A former UD women's basketball player is making news in Europe, as Kyle DeHaven is a rookie starting point guard with the Flying Foxes of Vienna, Austria. With the team, DeHaven has been playing in the FIBA Women's EuroCup, as well as the Central Europe Women's League and the Austrian Women's Basketball League.