Football schedule yields mix of highs, lows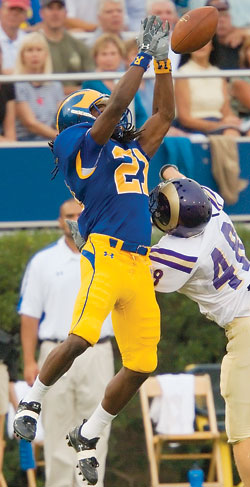 Photo by Mark Campbell
SPORTS | Playing one of the most difficult schedules in the history of the program with a pair of untested quarterbacks in Ohio State junior transfer Robby Schoenhoft and redshirt freshman Lou Ritacco, UD football got off to an up and down start in 2008.
The Blue Hens split their first four games and entered the Colonial Athletic Association portion of the schedule with high hopes, only to be stopped in the conference opener by a stubborn University of Massachusetts team, 17-7, in Amherst.
Delaware opened the season at the University of Maryland, moving up in class to take on the Atlantic Coast Conference team at Byrd Stadium in College Park. The Blue Hens played a solid game, ultimately losing 14-7 but not before putting a scare into the Terrapin faithful. UD scored late and had possession of the ball with a chance to tie but was unable to reach the end zone.
The game was played before 49,119 fans, the largest crowd in front of which a Delaware team has ever played. "I told the players I was proud to be their coach, and every Blue Hen out there watching was proud of them," UD Head Coach K.C. Keeler said. "We made some mistakes and missed some opportunities. But I was proud of our intensity and our ability to play to the end."
Maryland went on to defeat two top 25 opponents, the University of California and Clemson University.
Delaware bounced back to defeat West Chester University 48-20 in the home opener, played before a sellout crowd of 22,029 at Tubby Raymond Field at Delaware Stadium as senior running back Johnathon Smith racked up 101 yards and Jerry Butler another 92. Schoenhoft completed 14 of 26 passes for 194 yards and two touchdowns.
The Blue Hens then traveled to South Carolina, where they fell 23-21 to nationally ranked Furman University after turning the ball over five times.
Again, Delaware Stadium provided relief as the Blue Hens returned to defeat the University at Albany 38-7, but another road loss came at Massachusetts, where the UD offense managed just 167 total yards to another nationally ranked team.
For more about the full season, visit www.bluehens.com.