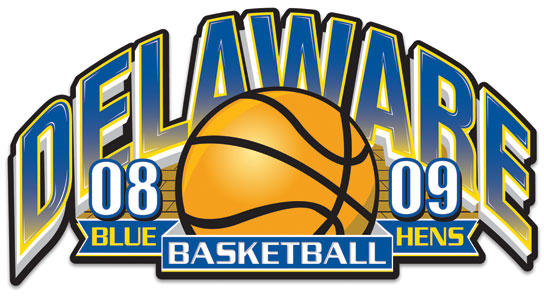 Teams look forward to season tipoff
SPORTS | The men's basketball team will work to continue its ascent into the upper tier of the Colonial Athletic Association in 2008-09, while the women's team will attempt to rebound from a difficult season that saw it win just seven games.
The Blue Hen men's team, led by Head Coach Monté Ross, took a step forward last year, going 14-17 overall and 9-9 in the highly competitive CAA. The Hens, who had won just five games the year before, also scored a first round conference tournament victory
over Drexel.
Although the Blue Hens lose a key player in the graduation of forward Herb Courtney, they return senior guard Marc Egerson, who was named third team All-Colonial Athletic Association as a junior. UD is rich at the guard position this season. Also back are sophomore Alphonso Dawson and junior point guard Brian Johnson, who will be joined in the backcourt by Jawan Carter, a sophomore transfer. Sophomore guards D.J. Boney and Edwin Santiago also return, while senior Jim Ledsome returns at forward, and senior Pau Geli will add depth to
the frontcourt.
The Blue Hens will open the heart of the conference schedule in January, with a home game against Virginia Commonwealth on Jan. 3. CAA tournament play will be March 6-9 at the Richmond Coliseum.
Women's Head Coach Tina Martin will seek improvement over last year's team, which finished just 7-24 and was knocked out of the CAA championship tournament in the first round.
The Blue Hens lose energetic guard Kyle DeHaven, who was the team's leading scorer and the CAA defensive player of the year. Sophomore Vanessa Kabongo is expected to start in the UD backcourt after averaging 6.6 points per game during her freshman season. She will be joined by junior Corinthia Benison, who also averaged 6.6 points. Also back is sophomore guard Tesia Harris, who averaged 5.4 points. Sophomore Ariene Jenkins will lead the UD frontcourt.
Following a holiday tournament at Loyola Marymount Dec. 28-29, the Blue Hens will open CAA play with a Jan. 4 home game against Drexel. The conference championship tournament, March 12-15, moves this year from UD to James Madison University.