Cardiovascular disease often strikes kidney patients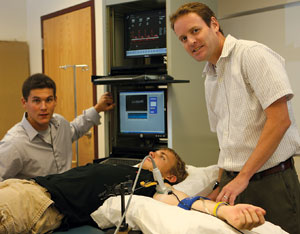 Photo by Tyler Jacobson
RESEARCH | A researcher studying vascular function in chronic kidney disease and its relationship to cardiovascular disease has received two major grants from the National Institutes of Health totaling more than $630,000.
David G. Edwards, CHS '91, assistant professor of health, nutrition and exercise sciences, was awarded the grants by the National Institute of Diabetes and Digestive and Kidney Diseases (NIDDK).
"We are studying chronic kidney disease because these patients are at very high risk for cardiovascular disease, even more so than would be predicted from traditional risk factors," Edwards says. "Research has shown that they are more likely to die from cardiovascular disease than reach end-stage renal disease. Our primary focus is trying to figure out why that is and what therapies might help."
NIDDK describes chronic kidney disease as the loss of function as a result of which the kidneys fail to remove wastes and extra water from the blood as they should.
Chronic kidney disease can result in other health problems, including anemia and bone problems, with heart disease the major cause of death for all people with chronic kidney disease, according to the National Kidney Foundation.
Experts estimate that 20 million Americans have significantly reduced kidney function, and even a small loss of kidney function can double a person's risk of developing cardiovascular disease.
Edwards says the initial grant, which he received last year, is funding an investigation into the mechanisms of endothelial, or vascular, dysfunction in patients with chronic kidney disease. The endothelium is the thin layer of cells that line the interior surface of blood vessels.
"Endothelial dysfunction is recognized as a key process in the development and progression of chronic kidney disease and may be one reason for this increased risk of cardiovascular disease, so understanding the mechanisms of dysfunction is potentially very important," Edwards says. The study is being performed using ultrasound of the brachial artery and, as such, focuses on larger blood vessels.
Investigations into the mechanisms of endothelial dysfunction have the potential to lead to the development of therapeutic measures aimed at maintaining renal function and reducing cardiovascular risk in chronic kidney disease, Edwards says.
One goal of the project is to identify biological markers that predict an individual patient's endothelial response to ascorbic acid infusion in order to identify patients who may require more aggressive intervention.
The second grant, awarded recently, is funding a study of microvascular function in chronic kidney disease. It, too, is investigating the mechanisms of endothelial dysfunction but focuses on the microvasculature, or small blood vessels, by studying the skin blood flow.
Collaborators on the studies include Dr. Michael E. Stillabower, director of cardiovascular research at Christiana Care Health Services in Delaware, and Dr. Raymond R. Townsend of the University of Pennsylvania School of Medicine.
Edwards is seeking more patients who might be interested in participating in the studies. For information, contact him at (302) 831-3363 or via e-mail at dge@udel.edu.
Article by Neil Thomas, AS '76