New computer platform to enhance performance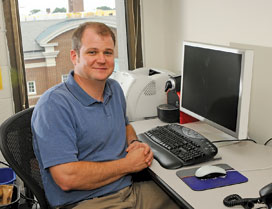 RESEARCH | A new technology developed by a UD computer scientist is expected to play a critical role in supporting major scientific projects that require high-performance networks to connect researchers from around the world.
Internet2 has announced that it will be deploying the technology, Phoebus, created by Martin Swany, assistant professor of computer and information sciences in the College of Arts and Sciences.
Internet2, www.internet2.edu, is a consortium of 212 universities, in partnership with industry and government, which works to develop and deploy advanced network applications and technologies that will help to inform future generations of the commercial Internet. UD has been a charter member for nearly a decade. Internet2 operates an advanced nationwide network that connects more than 50,000 research and education institutions in the U.S. and more than 80 international research networks.
The Phoebus platform is being deployed by Internet2 as an experimental prototype with the goal of significantly improving network performance for long-distance, high-capacity data transfer that today is very difficult to achieve using traditional Internet Protocol (IP) technology.
Phoebus works by enabling Internet2 to automatically switch large data flows from its IP network, which is shared among all the Internet2 users, onto dedicated circuits or paths. By transparently moving high-demand applications onto these dedicated paths, Phoebus improves network performance because the application can benefit from the more precise service qualities of circuit networking, while placing much less strain on the shared IP infrastructure.
"In the longer term, Phoebus represents an architectural evolution of the Internet in which commercial network providers can offer a richer set of services to their users because they will no longer be constrained by the performance limitations of IP," Swany says.