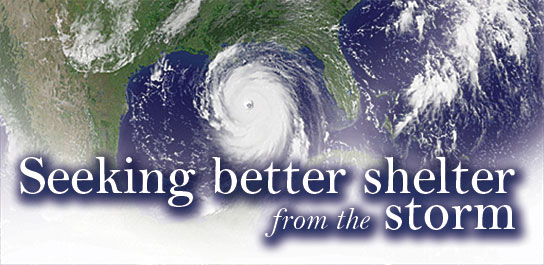 RESEARCH | As Hurricane Katrina advanced on New Orleans in late August 2005, many residents ignored the mayor's mandatory evacuation order. Some had no access to cars, while others believed that they would be safe in their homes or that they needed to stay behind to protect their property. Even the date was a factor in some people's reluctance to leave: It was the end of the month, and many were waiting for much-needed paychecks.
In the case of Hurricane Rita, which hit Louisiana and Texas less than a month later, the evacuation process actually proved to be more deadly than the hurricane itself. Only seven people died as a direct result of the storm, but many more perished in deadly hot cars stalled on gridlocked highways.
Disasters force organizations to change
W
hen disaster strikes, the first concerns are food, shelter and other necessities of life for individuals and families. But what happens to community organizations, such as domestic violence shelters, which house vulnerable members of society, in the wake of a catastrophe? Sociology graduate student Bethany Brown became interested in this question and is writing her doctoral dissertation on the organizational recovery of domestic violence shelters after hurricanes Katrina and Rita. She recently was awarded a $10,000 fellowship from the Public Entity Risk Institute (PERI) and the Natural Hazards Center at the University of Colorado, Boulder, to support her research. "I am honored and excited to receive the fellowship," Brown says. "It will strengthen my dissertation by allowing me to travel to Louisiana to conduct more interviews and analyze the results and incorporate them into my research. I also will be able to attend conferences and present my findings." Tricia Wachtendorf, assistant professor of sociology and women's studies and associate director of UD's Disaster Research Center, calls the fellowship "highly competitive" and says the award "demonstrates the importance of the issues Ms. Brown is studying, both with respect to theoretical scholarship and its real relevance to the community." Brown, who also is a researcher with the disaster center, made her first visit to New Orleans on another project and made contacts then for her current research. She has returned to study recovery efforts at three different organizations, two in New Orleans and one in southwestern Louisiana, which support domestic violence shelters. "One shelter was burned to the ground, and all three had to be evacuated," she says. Her research examines how the shelters re-establish themselves and the organizational changes that take place in the process.
"Hurricane evacuation and sheltering are not new topics, but these recent events have shown that there are still challenges in developing effective plans," says Rachel Davidson, associate professor of civil engineering. Through a grant from the National Science Foundation (NSF), Davidson and sociologist Tricia Wachtendorf, associate director of UD's Disaster Research Center in the College of Arts and Sciences, will soon begin work on a model that they hope will contribute to better planning efforts in the future.
Awarded through NSF's Human and Social Dynamics Program, the three-year, $750,000 project brings together a multidisciplinary team to improve understanding of and decision support for evacuation and mass case sheltering in hurricanes. Coordinated by the Disaster Research Center, the project team also includes Linda Nozick from Cornell University, as well as several consultants with expertise in evacuation behavior, evacuation modeling and storm-surge modeling.
Davidson points out that evacuation is a battle between the time required to get everyone to safety and the lead time provided by hurricane forecasting. "This is an area where there's a lot of uncertainty," she says. "If a decision to evacuate is delayed for too long, lives can be lost. On the other hand, making that decision too soon, when the hurricane track and intensity are still unknown, can result in the expense and danger of unnecessary evacuations."
In addition, recent demographic, cultural and technological shifts suggest that evacuation behavior may be changing, with implications for the way it is managed. For example, there now are more single-person, single-parent and elderly households. Cell phones, the Internet, in-vehicle GPS and other technologies have changed the way people receive and disseminate information.
"Overcoming these daunting challenges requires a fundamentally new, holistic approach to decision support for hurricane evacuation and sheltering," Davidson says. "We plan to adopt a broad decision frame and use mathematical programming to optimize the full range of sheltering and evacuation decisions."
Wachtendorf emphasizes the importance of respect for the realities of individual and organizational behavior in developing effective hurricane evacuation and sheltering plans. "For example," she says, "only about 15 percent of people typically use public shelters. It's important for us to know that, if we want to develop a model that will really be useful to planners and stakeholders."
To incorporate the human element, the structure of the models developed in the project will be guided by input from focus groups of key evacuation and sheltering decision-makers. In addition, the behavioral assumptions in the models will be validated using results from the social and behavioral research literature, as well as from surveys of affected citizens.
The project includes case studies from North Carolina and Florida to ground the theory in real examples, calibrate and validate the models and illustrate how the final models can be used. Emergency planning and management officials in both states are serving as consultants to the faculty researchers.
In addition, the team plans to make use of another NSF program, Small Grants for Exploratory Research, if a major hurricane strikes anywhere along the East Coast. That program offers a rapid application and award process, enabling researchers to take advantage of unexpected opportunities to collect valuable data.
"By providing a substantive example of truly interdisciplinary disaster research, this project will help facilitate the transformation of UD's well-known Disaster Research Center, historically based in sociology, into an interdisciplinary center," says center director Sue McNeil. "It will also help to launch our new interdisciplinary graduate program in disaster science and management."
Article by Diane Kukich, AS '73, '84M