'Bird Flu' project vital to poultry industry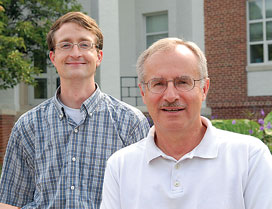 RESEARCH | Researchers at the University and 17 other institutions will continue avian influenza studies under a $5 million grant from the U.S. Department of Agriculture's Cooperative State Research, Education and Extension Service.
The three-year grant renews the Avian Influenza Coordinated Agricultural Project (AICAP), a partnership between the University of Maryland College Park and 17 other leading institutions, including UD, where avian influenza is being researched across the U.S. The original grant, awarded in 2005, was used to establish a research and education project to help prevent and control avian influenza.
Jack Gelb, chairperson of the Department of Animal and Food Sciences and professor of avian virology, and Eric Benson, associate professor of bioresources engineering, along with many other UD scientists, conduct research and extension programs that provide solutions and assistance to the poultry industry, a major food resource and economic driver on the Delmarva Peninsula.
Avian influenza research and outreach activities at UD are supported by AICAP, as well as state and other federal funds. Projects include surveillance programs in commercial poultry, backyard flocks and wild birds; development of rapid diagnostic tests; emergency poultry depopulation research; in-house composting for responding to catastrophic poultry losses; efficacy of disinfectants and common chemical compounds on avian influenza virus; viral pathogenesis and vaccine evaluations; and regional, national and international technical assistance programs.
"UD's avian influenza emergency response and diagnostic programs are known throughout the world," Benson says. "We have worked with scientists from Turkey, India, Bulgaria, Romania and a variety of other countries as a result of our involvement in AICAP."