Dine without trays, pay without paper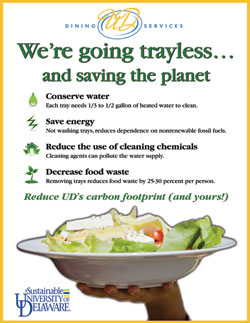 ON THE GREEN | The University has joined colleges and universities across the nation in going trayless in campus dining locations—part of the effort to go green by saving energy and water and decreasing food waste and the use of cleaning chemicals. In another change, the student billing system becomes paperless beginning in November 2008, with all student bills issued electronically and made available online.
"We implemented the trayless residential dining locations as one of many steps to improve our carbon footprint on campus and for the local community, as well," Sue Bogan, director of UD Dining Services, says. ARAMARK, which is partnered with UD to provide dining services, carried out a survey of 92,000 students, faculty and staff at 300 colleges and universities, which demonstrated that 79 percent of respondents would support trayless dining to reduce campus waste. It is estimated that 50-60 percent of the 500 schools partnered with ARAMARK will go trayless this school year.
"I believe the amount of water that will be saved by going trayless will greatly help UD in its efforts to work toward sustainability," Lindsay Koenings, public relations officer of the Resident Student Association, says.
With the start of the paperless billing system, the Billing and Collection Office notes that it is vitally important that students grant access to their e-bill to a designated parent or guardian's e-mail so that this authorized user can also be notified of a new bill, review current and past statements and make payments due. Students, parents and guardians accustomed to getting a bill through the mail will not receive one starting with the 2009 Winter Session. Instead, students and an authorized parent or guardian will receive an e-mail notification when a new e-bill is available and can view and pay their bills at www.udel.edu/paybill, where additional information also is available.