Theatre program adds professional ensemble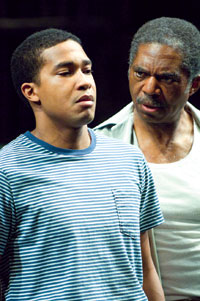 Photo byJenny Graham
ON THE GREEN | A new professional acting company has joined the Professional Theatre Training Program (PTTP) this fall, inaugurating a bold new dimension to the nationally acclaimed graduate conservatory, Sanford Robbins, chairperson of the Department of Theatre and artistic director of the PTTP, has announced.
In conjunction with the new PTTP class, the program has added the Resident Ensemble Players (REP), a resident professional acting company consisting of some of America's most experienced and respected regional theatre actors. With the establishment of the PTTP REP, UD joins the many universities that have resident professional acting companies.
The REP consists of 10 professional actors, including two PTTP faculty, and one professional Actors Equity Association stage manager. One of the 10 actors will join the company in 2009 after completing a contract at another theatre.
"The particulars of our plan for implementing a resident professional acting company alongside our master of fine arts (MFA) training program grow out of a conviction that ensembles working together over time are a necessary component of artistic excellence in the theatre," Robbins says. "Our intention is that our resident company provides to our students a model of artistic achievement and professional conduct."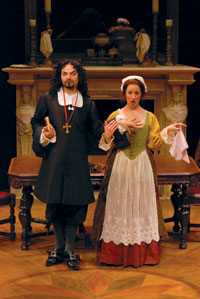 Photo by Paul Cerro
The combination of the new resident professional acting company, in conjunction with the highly respected conservatory, is designed to establish UD as a nationally important force in the performing arts, establish the Roselle Center for the Arts as a vital regional cultural asset and dramatically increase the PTTP's national reputation and ability to recruit top graduate students. It also will provide students, faculty, staff and the surrounding community with professional productions of a wide variety of classic, modern and contemporary plays, emphasizing those works that are studied in the UD undergraduate curriculum.
The PTTP, a graduate conservatory training program in acting, stage management and technical production, admits only one class every four years. Students train and perform together for three years, and in the fourth year the faculty selects a new class through nationally conducted auditions.
"We believe this model, with its emphasis on the continuity of an ensemble, is most likely to achieve sustained artistic excellence both in performance and in training," Robbins says. The REP actors will provide both mentoring and support to the MFA actors and will teach an undergraduate course each semester, which will dramatically increase both the number and quality of undergraduate courses in theatre and enable the Department of Theatre to inaugurate three new undergraduate minors in performance, theatre production and theatre studies, Robbins says.
Beginning in the fourth semester of the MFA training in February 2010, the MFA actors join the Resident Ensemble Players, and all productions from that point will be cast with a mix of MFA and professional actors.
The professional actors of the new resident acting company are Stephen Pelinski, Mark Corkins, Kathleen Pirkl Tague, Carine Montbertrand, Michael Gotch, Steve Tague, Deena Burke, Cameron Knight and Mic Matarrese.