President reflects on University's present and future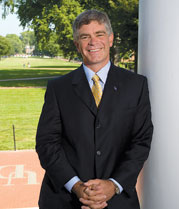 Photo by Stuart A. Watson
ON THE GREEN | Patrick Harker, who became the University's 26th president in July 2007, recently was asked to discuss a few highlights of his first year at the helm, as well as some of his vision for the institution's future. Following are excerpts from that interview.
Q: What are the main things you learned in your first year at UD?
A: First, I'm going to borrow a phrase from my previous employer and say our "breadth and depth" of the University. Yes, we have our historic strengths in areas like science and engineering, but it goes way beyond that. We also have strengths in humanities, the arts and areas like physical therapy, and we have a great group of faculty that is hungry for increased visibility and for making a deep impact. Second is the quality of the student body. I've seen that up close and personal teaching a service management class last year. They are very good young people who are excited about the opportunities they have here, and they have tremendous school spirit. Third has been the amount of community support for this institution. We matter to the state and region. I don't know any other university where you have the governor, senators and leading CEOs all coming to football games or performing arts activities fairly regularly. They are deeply involved and care about what happens here at UD.
Q: What do you count as some of your biggest accomplishments in that first year?
A: There are two major accomplishments. One is enhancing the team we already have at the University with some great new additions—the whole team of people that have come and joined what was already a very good group. That is true on the faculty side as well. The other is the strategic planning process, which I'm really proud of because it involved the entire community, including alumni and residents throughout the state. It was a comprehensive process, and the plan is a live document that we continue to discuss as we implement these ideas.
Q: From your perspective, what makes UD unique among state schools?
A: Let me start with the internal factor. We are a privately chartered, state-assisted university, although we are the flagship university in the state. It gives us a lot of flexibility because we run as a private university, but at the same time we serve the needs of the state. That is an odd structure, but it gives us a lot of opportunities. We also are unique in that we are a great value and are committed to maintaining value, particularly for in-state students. The financial commitment to Delawareans is real.
Q: Describe the development and progress of the University's strategic plan, the Path to Prominence™.
A: The Path to Prominence lays out the roadmap for where we are going. The set of principles will guide us, not just in the next year, but in the foreseeable future on what we are trying to accomplish. The step-by-step directions aren't laid out in the plan, but the destination of where we are going is pretty clear. We are in the midst of implementing those ideas.
Q: What are your impressions of the alumni you've met?
A: I went to 17 cities last year to visit alumni and will do more visits this year. It's a very diverse group, and we'd like to increase their engagement. We want them recruiting students and acting as mentors, not only for current students but for the alumni community itself.
Q: How is UD going to expand its global reach?
A: We have had a strong global presence starting with the first study abroad in 1923. Going forward, we are taking the great set of programs we already have and bringing them into a new Institute for Global Studies. We are in the process of organizing that, and it will coordinate a lot of what we do globally, including study abroad, research and many other activities. In that mix, there will be a set of nations that are important to the University as a whole, but then there will also be specific partnerships that matter to people in certain research areas. There are a lot of countries where we will need to have a presence. We probably won't open offices, but rather we are looking for strong partner institutions.
Q: Environmental sustainability is part of the Path to Prominence. What is UD doing to address this?
A: There are some immediate things we are doing and then plans for more of a long-term impact. John Byrne, one of our Nobel Laureates in this area, is doing a carbon footprint assessment now so we will have a clear idea of what we need to do to decrease our footprint. More immediately, we are enhancing recycling and doing things with the students from the moment they walk on campus. For example, we will have trayless dining halls, which ends up saving somewhere between 15-20 percent of waste.
Q: UD announced it will limit student loans. What was the reasoning behind this?
A: Costs can be overwhelming for some students, and we don't want to turn away bright students because of a financial burden. One of our goals is accessibility. Starting in 2009-10, we will package financial aid so that student borrowing will not exceed an affordable level over four years for all in-state undergraduates, and we also will work to keep student loan amounts modest for out-of-state residents. We will do this by increasing the amounts of grants and work-study positions based on need.
Q: How do you address comments that UD is no longer a university for Delawareans because other schools have a higher percentage of in-state students?
A: The answer is very simple. We accept 62 percent of all Delawareans who apply to our four-year program. For those who are not yet ready, 28 percent go into our two-year program. That means 90 percent of Delawareans who apply get into one of those programs. Why is our percentage of in-state students lower than some other state schools? We only have 783,000 people in Delaware, and the number of Delaware seniors in high school has not changed much at all over the past decades. The state's population growth is at the retiree age. If you go back 20 years, you'll see that UD has almost tripled in size, but there are only so many in-state students in Delaware. The growth has been with out-of-state students. Had that not happened, the University would be much smaller and more narrowly focused.
Q: How do you respond to rumors about plans to found a law and/or medical school?
A: They are not rumors. There is a plan to build a law school, but we will do it right by first building faculty expertise in core areas like corporate law, intellectual property law and environmental law. We are in the process of forming a UD Law Institute and plan to launch it in July 2009. As for a medical school, we don't have a desire to own a medical school. We have a strong partnership with Thomas Jefferson University that we will continue to enhance.
Q: Can you describe the future of athletics at UD?
A: To put it in broader context, one of the attitudes we have to keep reinforcing—and it's in the strategic plan—is excellence in everything we do. That applies to athletics, too. They are important because they challenge young people to do well and teach leadership skills. We've recently completed an athletics and recreation services strategic plan that will help provide solutions to short- and long-term needs of our recreation services, including club and intramural sports, and intercollegiate athletics.
Visit www.udel.edu/president for updates on this planning process.