Professor examines Hollywood views of Asians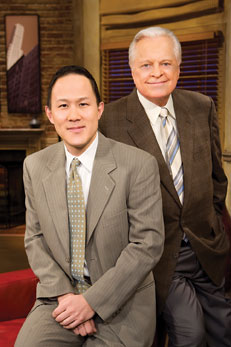 Photo courtesy of Turner Classic Movies
ON THE GREEN | Peter X. Feng, associate professor of English and women's studies, hosted a twice-weekly film series, "Race and Hollywood: Asian Images in Film," on Turner Classic Movies (TCM) during June.
Feng introduced about 40 films with TCM's host, Robert Osborne, providing an extensive, in-depth look at how Asians are depicted on film. The festival is similar to TCM's highly successful 2006 look at African-American images in film and its 2007 examination of gay images in film.
Feng, editor of Screening Asian Americans, a collection of essays, says assembling a series about Asian images was a challenging process. "With African-American films, you start with a history of African-American performers," Feng says. "With films about Asians or Asian Americans, it was common for roles to be played by white actors, so tracking performers wasn't really an option.
"Instead, I tried to look for the kinds of stories that Hollywood returned to repeatedly, like the Madame Butterfly story, and pick out some interesting variations in different decades."
Feng said that the series is heavily weighted to Chinese and Japanese subjects, mostly because those countries were represented more frequently than others before 1960.
"Americans just weren't aware of Korea or Southeast Asia," he says of the period before 1960. "It was actually very hard for us to choose an American film that represented a Vietnamese perspective, as opposed to an Oliver Stone, American-experience-in-Vietnam sort of film. It was also a very difficult decision whether to focus on South Asian stories of India and Pakistan. Ultimately, we decided we could tell a more coherent story by focusing on East Asia."
Feng, who teaches courses in Asian-American literature and film studies, is the author of Identities in Motion: Asian American Film and Video, published in 2002 by Duke University Press. He was Chancellor's Distinguished Visiting Professor of Film Studies at UC-Irvine from 1997-98 and currently serves on the editorial board of the Journal of Asian American Studies. Feng has published articles in Cinema Journal, Cineaste, Amerasia Journal, Jump Cut and elsewhere.
"One of the main reasons I agreed to do the TV series is that I feel not enough people know that UD has great courses in film studies, ethnic studies and East Asian studies," Feng says. "I am currently working on a book on Asian Americans and television, so this was a valuable opportunity for me to get a peek behind the curtain."
Turner Classic Movies, seen in more than 75 million homes, is a 24-hour cable network.
Films shown in the series included such silent movies as The Dragon Painter (1919) and The Bitter Tea of General Yen (1932); films starring Anna May Wong, including Shanghai Express; and movies centering on Asian crime fighters and detectives, with such characters as Charlie Chan and
Mr. Moto. Other categories focused on the legacy of World War II (The Teahouse of the August Moon, for example), Pearl Buck (The Good Earth), interracial and intercultural romance (The World of Suzie Wong), race consciousness and the civil rights era (Flower Drum Song) and contemporary Asian images (The Joy Luck Club and Rush Hour 2).