Olympic Games draw students to China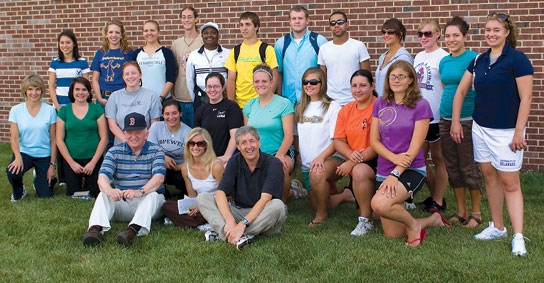 Photo by Tyler Jacobson
ON THE GREEN | Forty-five University students and three faculty members spent a four-week study abroad program at the 2008 Olympics in Beijing. Run by the Department of Health, Nutrition and Exercise Sciences, the program focused on the roles of women in sport, Chinese traditional sports and leisure practices and the modern history of the Olympic Games.
In addition to the academic component, the students visited Olympic venue sites during the games and enjoyed excursions to historical, cultural and scenic areas, including the Great Wall, Forbidden City, Tiananmen Square, Ming Tombs and a Chinese opera performance.
Students also had the opportunity to interact with faculty at a leading Chinese sport university, grand masters in various traditional Chinese sports, athletes and fellow college students in areas that include gymnastics, martial arts, table tennis and badminton.
"Combining the culture and history of Chinese traditional sports and the opportunity to meet grand masters with study at the 2008 Summer Olympics is something that is likely
to influence the way these students think about sport and exercise for
the rest of their lives," says Lesa Griffiths, associate provost for international programs.
UD had another presence at the Olympics as well, with Rob LoFurno, a district chef with ARAMARK, which provides food services at the University, serving as the warehouse director for ARAMARK at the Olympic Village in Beijing. The Village kitchen, warehouse and dining hall were the size of three American football fields, able to seat up to 7,000 people at a time. In 2004, LoFurno was the executive chef in charge of catering at the Olympic Village in Athens.
Working with LoFurno in Beijing were Wells Shu and Robert Zhang, both students in UD's hotel, restaurant and institutional management program.