Oceans of fun at marine science camp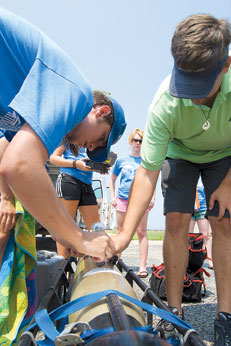 Photo by Lisa Tossey
ON THE GREEN | Cole Flynn had never considered becoming a marine scientist. But after a summer day spent mining the coastline for Delaware's most interesting marine creatures, the high school senior said he hopes his future career involves the ocean.
"We got to see lots of animals, catch them and study them," he says of the summer program in which he took part. "I definitely didn't expect to find a full-blown live horseshoe crab."
Flynn, of Wilmington, Del., is one of 10 students who participated in the inaugural College of Marine and Earth Studies TIDE Camp in July. TIDE, or Taking an Interest in Delaware's Estuary, is intended to give high-schoolers an up-close look at the scientific processes of Delaware Bay. And that's just what it did. For two weeks, campers got to do such things as build their own underwater research vehicles, interact with faculty members, visit state-of-the-art research labs, tour marshes and study wildlife at the beach.
Seining, the activity that turned up Flynn's horseshoe crab, had students dragging nets across the ocean bottom to see what kind of critters they could find. As they got the hang of it, their nets came up heavy with horseshoe crabs, jellyfish, seahorses and all kinds of fish—silversides, lookdowns and pipefish.
One of the students eagerly studying the nets' contents was Andrew Tobias, of Lebanon, Pa. Tobias, who named seining as his favorite camp activity, says that he's always had an interest in oceans, oceanography and estuaries and that the camp only strengthened that. "The instructors gave us deeper insights on issues like the physical and biological aspects of marine biology," he says. "I learned how delicate the different marine ecosystems are."
For the students—who all demonstrated an interest in marine science and solid math and science skills in their camp applications—TIDE was a rare opportunity to get personal with the inhabitants of the world beneath the waves. It also was a chance to see how scientists study the ocean and coast.
"We wanted to make sure we touched on all the different aspects of marine science," Frank Newton, assistant dean and one of the camp's organizers, says. "So the students learned about everything from mapping to oceanography to air-sea interaction to the ocean's connection to climate and climate change."
In a seminar given by Willett Kempton, assistant professor of marine policy, they learned about Delaware's extensive offshore wind resource, and each took a ride in the electric car Kempton and his UD colleagues developed. Another popular event not only showcased UD scientists' work but also tested the students' teamwork skills. The "build your own underwater research vehicle" competition let groups of campers create mini versions of the machines used by scientists to study life on the ocean floor.
Trevor Metz, MS '07, the TIDE adviser and a science teacher at Fred Fifer Middle School in Camden, Del., says the camp challenged students intellectually and gave them unique hands-on experiences.
"To have that type of technology, to have access to all the research facilities a university has to offer, and to have the opportunity to experience marine science like they did," Metz says, "absolutely, they are lucky."
Article by Elizabeth Boyle