At end of life, nurses give special care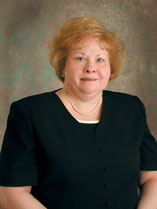 ON THE GREEN | As an oncology nurse, Courtney Crannel, CHS '02, '04, says she and her colleagues necessarily deal with a variety of issues concerning end-of-life care, from pain management to communicating with patients and families about grief and bereavement.
That's why Crannel, who works at Christiana Hospital near Newark, Del., has enrolled in an "ELNEC [End of Life Nursing Education Consortium] Train the Trainer" course offered by the Delaware End-of-Life Coalition. She is one of 385 participants throughout Delaware to sign up for the distance-learning program and agree to share what they learn with other health-care professionals.
"I think there is a definite need for this type of training," Crannel says. "Nurses, and especially young nurses, sometimes shy away from the subject of end-of-life care, but it's something you need to deal with, not just in oncology settings but throughout a hospital."
Madeline Lambrecht, director of the Division of Special Programs in UD's College of Health Sciences and president of the Delaware End-of-Life Coalition, in collaboration with five other ELNEC trainers, developed the course with funding from the Delaware Cancer Consortium. In June, she coordinated a meeting with nine hospitals throughout Delaware to encourage nurses, cancer care coordinators and other professionals to participate in the training, which most will complete this fall.
"It's really an exciting endeavor," Lambrecht says. "Every one of our participants will have the knowledge and tools to present EOL programs to colleagues and the public. We're providing the resources and follow-up to assure that information about EOL issues is widely shared throughout the state."
The program has drawn praise from ELNEC at a national level, where project director Pam Malloy calls it "a model for the other 49 states." The consortium is a national education effort of the American Association of Colleges of Nursing and the City of Hope to improve end-of-life care in the United States.
In Delaware, each participant has been given a 1,000-page workbook, access to a password-protected Web site, a DVD and a CD-ROM, all encompassing the eight modules that make up the course. While those enrolled in the course must complete all eight modules, they can choose a specific topic such as "advance directives" when offering a program themselves.
Because the lectures, quizzes and question-and-answer components are all available online, participants can do the coursework at their convenience. Videoconferencing sessions will be held at participating hospitals this fall, with video of the meetings available online for those who can't attend.
Lambrecht says flexibility is a necessity when so many nurses, all working in different locations and different hours, are involved.
"If we were to try to schedule in-person classes and lectures, it would be a nightmare," she says. "Especially now, with staffing shortages, hospitals can't manage to give their nurses time off to attend a class, and we'd never be able to cover the whole state."
Crannel, the mother of a 3-year-old, says the distance-learning format is what made participating in the class possible for herself and for many of the nurses on her team, especially those who work the midnight shift.
Most participants in the program are nurses, although they represent a variety of positions. Barbara Peterson, CHS '70M, for example, enrolled in the course because she serves as the ethics educator for Bayhealth Medical Center in Dover, Del. "I'm also a parish nurse, so I had a dual purpose in signing up," she says. "Unless you're comfortable talking and thinking about end-of-life issues yourself, it's hard to deal with them professionally. I think this kind of program helps open people's minds."
The ultimate goal is simple, Lambrecht says: "We want to provide better end-of-life care for the citizens of Delaware, and the participants taking this course will play a big part in that effort."
Article by Ann Manser, AS '73