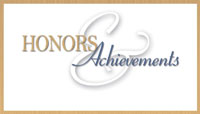 Debra Hess Norris, AS '77, '80M, Henry Francis du Pont Chair in Fine Arts and vice provost for graduate and professional education, has been awarded the prestigious University Products Award for Distinguished Achievement in Conservation, recognizing professionals who have advanced the field of conservation and furthered the cause of conservation through public outreach and advocacy. It is estimated that Norris's former students comprise about 70 percent of professional photograph conservators in America.
Three UD doctoral students in economics—Laura Cojocaru, Leo-Rey Gordon and Stela Stefanova—were among 300 students worldwide selected by the National Science Foundation to attend the third Lindau Nobel Laureate Meeting in Economic Sciences in Germany in August. Fourteen Nobel Laureates in economics attended the meeting.
Five faculty members in the Department of Physical Therapy received major awards during the past year from the American Physical Therapy Association: Joseph Lucca, associate professor, the Lucy Blair and the Friend of Private Practice awards; Dr. Michael J. Axe, clinical professor, the Jack C. Hughston Sports Physician Award; Cathy Ciolek, associate director of the Neurological and Older Adult Physical Therapy Clinic, the Joan Mills Award; Marty Fontenot, sports physical therapy resident, the Mary Macmillan Doctoral Award; and Tara Jo Manal, assistant professor and director of clinical services, the Signe Brunnstrom Award for Excellence in Clinical Teaching.
Marcy J. Dinius, assistant professor of English, and Monica Dominguez Torres, assistant professor of art history, have been selected as Library of Congress John W. Kluge Fellows for 2008-09.
Janis Tomlinson, director of University Museums, was invited to deliver a lecture on Francisco de Goya in June at the Museo del Prado in Madrid, Spain. The honor, for which Tomlinson was chosen because of her widely respected scholarship on Goya, coincided with the exhibit "Goya During the War Years."
Rachael Hutchinson, assistant professor of Japanese, received the 2007 Toshiba International Foundation Award for the best essay of the year in Japan Forum, the national journal of the British Association for Japanese Studies. Hutchinson's research interests include 20th century Japanese literature and film, representation and identity studies.
Maciek R. Antoniewicz, assistant professor of chemical engineering, is one of 17 professors worldwide to receive the annual DuPont Co. Young Professor Grant for original research. Antoniewicz's research interests include metabolic engineering and systems biology and engineering microbial cells for production of biofuels and biochemicals.
Susan Goodman, H. Fletcher Brown Chair of Humanities in the English department, has been awarded a National Endowment for the Humanities senior fellowship for 2009-10. She will use the fellowship to work on a book project about The Atlantic Monthly and its influence on American culture, politics and life.
Ulhas Naik, professor of biological sciences, is the 2008 recipient of the Mario Toppo Distinguished Scientist Award from the Association of Scientists of Indian Origin in America, recognizing an outstanding senior scientist of Indian origin for contributions to the sciences. Naik's research involves cardiovascular diseases and cancer.
John Bishop, professor and coordinator of graduate programs in the Department of Human Development and Family Studies, has been awarded the American College Personnel Association's (ACPA) Commission for Counseling and Psychological Services' Outstanding Lifetime Achievement Award and was named a 2008 ACPA Foundation Diamond Honoree. Both awards recognize Bishop's contributions during his 31 years as director of UD's Center for Counseling and Student Development.
Babatunde Ogunnaike, the William L. Friend Professor of Chemical Engineering, has been awarded the 2008 American Automatic Control Council's Control Engineering Practice Award, which is given to one individual or one team selected for significant contributions to the advancement of control practice.
Donald L. Sparks, S. Hallock du Pont Chair of Plant and Soil Sciences and the director of the Center for Critical Zone Research at UD, has been elected a geochemistry fellow by the Geochemical Society and the European Association for Geochemistry.
Joann Browning, professor of theatre, received the 2008 Outstanding Service Award from the Association for Theatre Movement Educators, part of the Association for Theatre in Higher Education.