Hispanic programs promote student success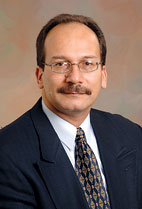 ON THE GREEN | The Delaware chapter of ASPIRA, a nationwide organization devoted to the education and leadership development of Latino youth, moved to the UD campus this fall for its Saturday academies. The academies encourage high school seniors to continue with their education, inform them of the opportunities that are available and help them select a college or university, take college entrance exams and complete college and financial aid applications.
The academies have been meeting in the state for four years and serve about 25-30 students, according to Dr. Jaime Rivera, director of the state Division of Public Health. "We have a very high success rate in students who finish high school and go on to college," he says.
"ASPIRA has a long and very successful track record in helping Latino students achieve academically and in encouraging them to attend universities throughout the country," says Havidán Rodríguez, vice provost for academic affairs and international programs at UD. "We are delighted to have the Delaware ASPIRA program's Saturday academies take place at UD. This is another important initiative that highlights the University's commitment to 'Delaware First,' to increasing community engagement on our campus and to enhancing diversity at UD, as outlined in our strategic plan."
The University also recently became a partner institution in the Hispanic Association of Colleges and Universities (HACU), which represents approximately 450 colleges and universities committed to Hispanic higher education success in the U.S., Puerto Rico, Latin America, Spain and Portugal. UD is one of 62 partner institutions. Thousands of young Hispanics benefit from HACU with internships, scholarships and college retention and advancement programs, precollegiate support and career development opportunities and programs.
For more information about HACU, visit www.hacu.net.