Teachers take research back to classrooms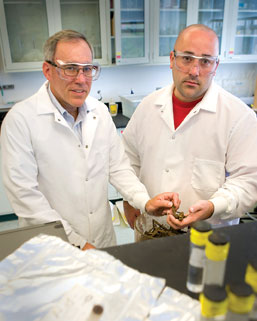 Photo by Tyler Jacobson
ON THE GREEN | As a math teacher at Rising Sun (Md.) High School, George Hildebran says he often searches for answers to a question that many of his students ask: "Why do we need to know this?" To come closer to finding those answers, he says, he participated in a six-week summer immersion program at UD's College of Engineering.
Led by Ken Barner, professor of electrical and computer engineering, the Nature InSpired Engineering (NISE) program was funded through the National Science Foundation's Research Experiences for Teachers program. Grants in that program support the involvement of K-12 teachers and community college faculty in engineering research.
According to Kathy Werrell, assistant dean and director of engineering outreach at UD, the program is aimed at fostering technological innovation in the classroom, facilitating the establishment of long-term collaborative partnerships and providing teachers with an intellectually invigorating experience. The 14 teachers who participated in the first year of the NISE program ranged from students just completing degrees in math and science education to individuals with more than two decades in the classroom.
"This is a great experience for me because I'm getting the chance to interact with a lot of experienced teachers," Julia Somers, a senior in UD's math education program, said during the summer. "All of the teachers here are really passionate about what they do and excited about being innovative in the classroom."
The theme underlying all of the projects was the use of principles from nature to enhance engineering. First-year projects addressed materials for natural energy capture, natural fiber composites, environmental engineering and nature-inspired drug delivery, while projects in the second year will focus on bio-imaging, sensors for disease management, biomimetic flying robots and biomedical tissue engineering. The third-year program will focus on the four areas that were deemed the most successful in the first two years.
Teachers say the program had both tangible and intangible benefits. Six days into the session, Megan Bone, a science teacher from William Penn High School in New Castle, Del., wrote in her NISE blog, "Returning to the role of the student...forces me to change my perspective and reflect on my own teaching and how it comes across to my students."
For Nick Cottone, another science teacher at William Penn, the technology is part of the lesson. In addition to content-based goals, Cottone says he hopes to improve technological communications with his students using a variety of sources, such as text messaging, MySpace and e-mail.
As for Hildebran, by the fourth day of the program, he had already gained some insight into the perennial "Why do we need to know this?" question. "In our first day in the lab," he says, "we had to calibrate some equipment, a process that requires a high degree of precision. I struggle with getting that concept across to my students. They see a number like 17.168, and they think it's the same as 17.
"Being in the lab at UD is giving me a real-world experience that I can use to show them why there is a big difference between 17 and 17.168 if you want to get accurate results from an experiment."
Article by Diane Kukich, AS '73, '84M