Top-notch freshman class stands out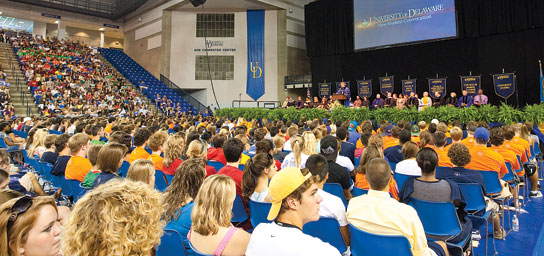 Photo by Kevin Quinlan
ON THE GREEN | More students applied for admission to UD for the Class of 2012 than ever before, resulting in the largest, most diverse and most academically strong group of freshmen in University history.
The freshman class was welcomed to campus at undergraduate Convocation in September. In his opening remarks, UD President Patrick Harker noted that the 3,891 students were selected from the largest applicant pool the University has ever had. "You also were the strongest in our history," Harker said. "The average SAT score of your class is 20 points higher than last year's class, the largest single one-year increase we have ever witnessed."
Before the freshmen even arrived on campus, UD's director of admissions, Lou Hirsh, noted that regardless of the national economic situation, the University remains a popular choice for First State and out-of-state residents. He cites several reasons for UD's appeal to prospective students and their families.
"As a major research university, we are almost unique in that our faculty also teach, with many, including senior faculty, teaching freshmen and sophomores," he says. "At many other colleges, this group of students is taught almost exclusively by adjuncts and grad assistants.
"Although we have some large classes, we also have a significant number of surprisingly small classes for a flagship state university. Only 4 percent of our students enroll in classes of 100 or more students, and over 60 percent enroll in classes with less than 25 students."
Hirsh says another positive feature for in-state students is reflected in the Commitment to Delawareans, an academic "roadmap" guiding high school students in the courses and grades they need to be confident of being admitted to UD. The plan now includes a financial aid commitment and an early notificationprocess beginning with next year's in-state freshmen.
"Beginning with the entering class of 2009-10, UD will meet the demonstrated financial need of Delawareans up to the cost of tuition, fees and books and (if they are living on campus) the cost of room and board, as well," Hirsh says of the new Commitment to Delawareans.
"UD is also placing affordable limits on the requirement for student borrowing. Beginning in 2009-10, financial aid will be packaged so that the student loan component for incoming resident undergraduate students will not exceed an affordable level over four years for all in-state undergraduates, and efforts will be made to keep student loan amounts modest for out-of-state residents. UD will limit the amount of student loans by increasing the amounts of grants and work-study positions that are based on need."
The Class of 2012 consists of 1,290 Delawareans and 2,601 nonresidents, from U.S. states as far away as Hawaii and from 17 foreign countries. Among the Delawareans are 329 students in the Associate in Arts Program, who began their fall semesters at the UD Academic Centers on Delaware Technical and Community College campuses statewide.
Besides 43 valedictorians and 36 salutatorians, 521 of the freshmen finished high school with GPAs of 4.0.
At a special Convocation ceremony for new graduate students, 1,191 master's and doctoral students also were welcomed to campus this fall.