In the market for hands-on learning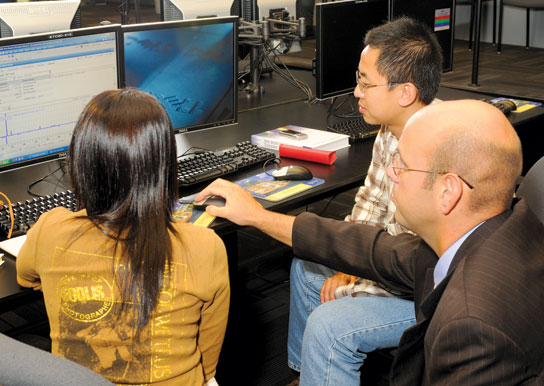 Photo by Duane Perry
ON THE GREEN | The Exelon Trading Center in the Lerner College of Business and Economics is part classroom, part lab and part student lounge, particularly for the college's finance majors. It's also a kind of tourist attraction for anyone entering Purnell Hall.
With its glass doors and wall panels, the center draws the attention of passers-by, who pause to take in the sight of a room filled with large TV panels, workstations with double-screen computer terminals and an electronic stock market ticker running continuously in a band just below the ceiling.
"We're in the process of integrating the trading center as a lab that will be used across our curriculum," says Rich Jakotowicz, BE '98, the center's manager. "Just like a chemistry class, where students are in lectures part of the time and in a lab learning specific skills related to those lectures the rest of the time, that's how the trading center will be used. Students will start learning trading skills their freshman year, and each year we'll build on that as their skills become more advanced."
The trading center features the computer software and other equipment needed to trade commodities, particularly the purchase and sale of electricity, in addition to securities. A $500,000 donation by the Exelon energy company helped pay for the center, which opened last spring.
The idea for the partnership originated with Exelon Power Team trader Frank Henshaw, EG '87M, after he read about UD President Patrick Harker's interest in bringing academia and industry together. In addition to offering an interactive learning experience for students as they work on the simulated trading floor, the partnership provides a number of ways for UD professors and students and Exelon Power Team employees to learn from one another. These include a faculty-in-residence program—where professors will have the opportunity to work on Exelon's trading floor in Kennett Square, Pa.—and a trader-in-residence program, where Exelon employees will be able to work with students in the center at UD.
Harker has said the center allows students to benefit from "hands-on learning opportunities and interaction with some of the leading traders in the world."
Lerner College Dean Conrado (Bobby) M. Gempesaw notes that not only business students will be using the Exelon Trading Center, which he says has applications for such disciplines as computer science, engineering, geography and agriculture. "It will also allow our faculty to interact with Exelon traders in taking a deeper look into the commodities market," he says. "This partnership is truly a win-win opportunity for both UD and Exelon."
Only about 5 percent of U.S. business schools have similar types of facilities, Gempesaw says, giving UD graduates an edge in the job market.
With the center now up and running, faculty members are increasingly making use of it in a variety of business courses, Jakotowicz says. In addition, he offers workshops and other programs to help students and faculty members become familiar with the equipment, computer software and other capabilities of the center. When the center isn't being used for formal training, Jakotowicz says, students use it "almost as a lounge," dropping in to check the TV screens for breaking news from Wall Street or the ticker for stock activity.
In a recent workshop to teach students how to use the Reuters news service for such activities as researching corporations to guide investment decisions, Jakotowicz encouraged participants to drop by the center. "You can come in here without a textbook, without a notebook, without even a pencil, and you can spend a lot of time teaching yourself."
During the workshop, two lab assistants circulated around the room, helping students who ran into stumbling blocks as they worked their way through the software.
One of those assistants, Dylan Knox, BE '09, calls the trading center "amazing."
"The technology is like nothing I'd be able to afford, so it's great to be able to experience using it," he says. "It's a good idea to have lab assistants, because I think it can seem intimidating to students until they get used to it."
One group of students using the simulated trading floor is actually investing real money. The Blue Hen Investment Club, which handles $1 million of the University's endowment, has been holding its regular meeting in the Exelon Center ever since it opened.
"This is great for us, because you can get real-time information as it happens," says Chris Mahoney, BE '09, president of the investment club. "Financial news is moving so fast—especially recently—that things change minute by minute, and to make smart decisions, you have to keep up."
This fall, the Exelon Trading Center marked another milestone, with a formal inauguration event. Exelon executives, Harker and Gempesaw addressed an audience of students, faculty and business leaders in the center the morning of Oct. 16. Afterward, the speakers were joined by some faculty and students in traveling to New York, where they rang The Closing Bell on the New York Stock Exchange at 4 p.m.
While the bell was being rung, others watched the University contingent live on CNBC in the trading center.
Article by Ann Manser, AS '73