Get the dirt on soil at Smithsonian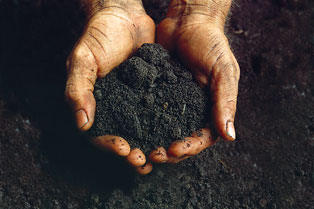 ON THE GREEN | Visitors to the "Dig It!" exhibit might be surprised to learn that there are more living creatures in a tablespoon of soil than there are people on the Earth. This fact is just one of many brought to life at the National Museum of Natural History in Washington, D.C., with the help of soil scientists from UD and across the country.
Featuring 5,000 square feet of educational space, the exhibit opened in July and runs through Jan. 3. "Dig It! The Secrets of Soil" then will travel to 10 museums around the country through 2013.
Tom Sims, associate dean for academic programs and research for the College of Agriculture and Natural Resources and the T. A. Baker Professor of Soil and Environmental Chemistry, and Don Sparks, S. Hallock du Pont Chair of Plant and Soil Sciences and director of UD's Center for Critical Zone Research, were instrumental in Delaware's contributions to the exhibit. The soils and environmental quality program at UD, in the Department of Plant and Soil Sciences, is nationally recognized.
"Soil scientists throughout the U.S. worked with the design team at the Smithsonian for nearly eight years to create a world-class educational exhibit," says Sims, who served on the steering committee for the project.
"Dig It!" uses interactive displays, hands-on models, videos and soil samples to guide visitors. One interactive exhibit highlights soil from each state, including Delaware's Greenwich loam. For more information about the exhibit, see http://forces.si.edu/soils or www.soils.org/smithsonian.