Full slate of performances, art and more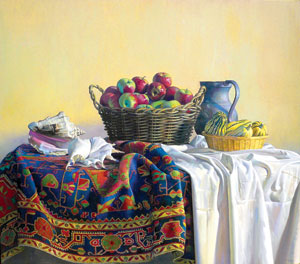 ON THE GREEN | The new professional acting company at UD has a busy schedule of productions for the 2008-09 season. In addition, lovers of the arts will have a host of other events from which to choose in the coming months, from photography exhibits to flamenco dancing to music of all types.
The Resident Ensemble Players (REP) continue their season with The Imaginary Invalid by Moliere, Jan. 14 to Feb. 14; John Steinbeck's Of Mice and Men, Feb. 25 to March 15; and Hay Fever by Noel Coward, April 15 to May 16. The graduate students of the Professional Theatre Training Program (PTTP) will present four productions this season: Shakespeare's As You Like It, Nov. 20 to Dec. 6; The Long Christmas Dinner by Thornton Wilder, Feb. 4-21; and two plays by Henrik Ibsen, Ghosts, April 22-25, and A Doll's House, April 29 to May 2.
For ticket information, call (302) 831-2204 or visit www.udel.edu/theatre.
The varied Performing Arts Series showcases acclaimed musicians and dancers. Pianist Ingrid Fliter performs works by Chopin, Schumann and others on Jan. 16, and jazz violinist Regina Carter performs on Feb. 13. The Carlota Santana dance company performs Flamenco Vivo on March 1, and Trio Mediaeval displays its diverse, polyphonic repertoire in a March 21 concert. A March 13 concert by the Guarneri String Quartet, making its final tour after 45 years, will be held in conjunction with the Master Players Concert Series.
For information, call the Roselle Center for the Arts box office, (302) 831-2204.
In addition to the performance listed above, "Farewell, My Guarneri Quartet," the popular and celebrated Master Players Concert Series, led by artistic director and acclaimed violinist Xiang Gao, marks its fifth season with a series titled "Opus 5." It resumes Feb. 20 with "Delaware Idols," a concert featuring the talented young virtuosos who were finalists in the first Delaware International String Competition.
This season's performance by "Xiang Gao and Friends" is iMusic II, a multimedia violin concert created by Gao, April 17 and 18.
Visit www.music.udel.edu for more information about the series.
The Department of Music will host numerous public performances by students, faculty and visiting artists this season. December alone includes pianist Christine Delbeau (Dec. 1); the Jazz Chamber Ensemble (Dec. 2); a "Choral Celebration" (Dec. 6 and 7) that will showcase the University Singers, Concert Choir, Chorale and the Community Music School Children's Choir; the Wind Ensemble with soloist Todd Groves (Dec. 7); and Percussion, Marimba and Delaware Steel (Dec. 9). Fall semester closes out on Dec. 10, with the Symphony Orchestra and Schola Cantorum.
For a full season schedule, see www.music.udel.edu.
Three current exhibitions at the University Museums will run until Dec. 7. The Last Iceberg: Photographs by Camille Seaman and Poles Apart: Photography, Science and Polar Exploration, both in the gallery at Old College, are offered in partnership with the Carlson International Polar Year series of events at UD. In nearby Mechanical Hall, Discursive Acts: African American Art at UD and Beyond features works on loan from artists and other institutions as well as UD's Paul R. Jones Collection.
Opening in Old College Jan. 13 is Stephen Tanis: A Retrospective and on March 18, Natural Order: Contemporary Landscape Painting. On Feb. 3 in Mechanical Hall, Jacob Lawrence in Print, 1963-2000, opens.
Visit www.udel.edu/museums for gallery hours, directions and other details.