New Institute highlights new energy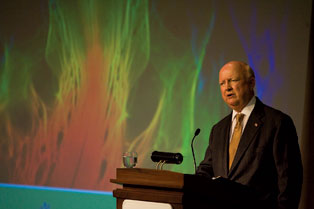 Photo by Kathy F. Atkinson
ON THE GREEN | The University of Delaware Energy Institute (UDEI) has formally opened, with an inaugural conference in September that included presentations by the U.S. secretary of energy and a UD alumnus who heads the Hawaii Clean Energy Initiative.
More than 300 participants attended the daylong event, representing not only the University community but also state and local government and a broad array of private companies, public transit providers, hospitals, utilities, conservancies and foundations.
The purpose of the institute is to create and integrate new solutions to challenges in energy sufficiency and sustainability.
In opening the program, UDEI Director Mark Barteau referred to the institute as "a portal to energy research and education at UD." He emphasized that UDEI will also play an important role in engagement. "We're not just staying in the lab and the classroom," he said, "but getting out there and trying to connect outside the walls of the University."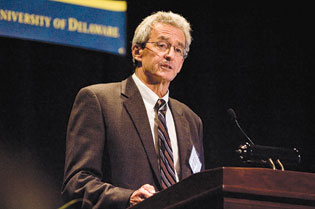 Photo by Kathy F. Atkinson
Barteau, who also serves as senior vice provost for research and holds the Robert L. Pigford Chair of Chemical Engineering, was instrumental in establishing the institute in 2007.
University President Patrick Harker emphasized that UDEI is an action step on UD's Path to ProminenceTM, which includes, as one of six milestones, the Initiative for the Planet. "This initiative has among its goals that the University of Delaware will lead path-breaking environmental research, that it will become 'The Green University,' that it will develop and demonstrate alternative energy technologies and that it will integrate environmental programs within the curriculum," Harker said.
"The Energy Institute will develop the science undergirding advances in emerging energy technologies and will advance their development and deployment. It will leverage our strengths in partnerships with industry and government."
In addition, the institute will take a leadership role in major grant proposals and provide seed grants to launch innovative energy projects, Harker said, noting that no single technology alone can solve the nation's energy needs. The slate of speakers on the program reflected this belief, as talks addressed photovoltaics, wind power, electric cars, biofuels and other innovative approaches to providing energy and reducing harmful emissions.
U.S. Secretary of Energy Samuel Bodman presented a number of government initiatives aimed at improving energy efficiency and developing renewable energy technologies. He referred to UD, with its many contributions to the field of energy research, as a valued partner.
"By providing a forum for fostering collaboration, this University and UDEI will help lead us toward a cleaner, more affordable, more secure energy future," he said.
Lunchtime speaker Richard Rocheleau, EG'73, '80PhD, director of the Hawaii Natural Energy Institute at the University of Hawaii, provided an overview of the Hawaii Clean Energy Initiative, which is a state-federal partnership established to accelerate transformation of Hawaii's energy system.
Research at the institute is ongoing in a number of areas—including hydrogen fuel cells, photovoltaics, electrochemical power, ocean resources, biomass and biotech—to address Hawaii's unique energy needs and issues. Although the island state has renewable energy resources, less than 10 percent of its energy comes from renewables, Rocheleau said.
He noted that the energy institute he heads has a goal of increasing the state's use of renewables to 70 percent by 2030.
Article by Diane Kukich, AS '73