Leading the way to the White House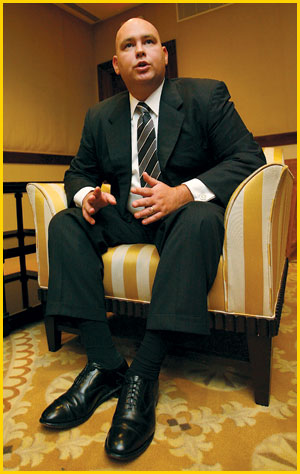 AP Photo/Matt Sayles
EPICENTER OF POLITICS | First as a candidate in the Democratic primary campaign, then as the winner of the so-called "veep-stakes" when Barack Obama selected him as his running mate, Sen. Joseph R. Biden's name was prominent throughout the 2008 presidential election season. For most Americans, Biden was likely the only link they knew between Delaware—the state or the University—and the highest level of national politics.
And yet, remarkably, UD produced not only Biden, a 1965 graduate with a double major in history and political science and a 2004 honorary doctor of letters, but also the campaign managers for both major party candidates.
In noting the coincidence, Bloomberg News in August called UD the "epicenter" of the presidential race.
Steve Schmidt, AS '93, led Republican Sen. John McCain's campaign, while Democratic Sen. Barack Obama's campaign was guided by David Plouffe, AS '89. Both campaign managers attended the University as political science majors, although both also left before completing their degrees. During his fourth year at UD, Plouffe left school for the opportunity to get firsthand campaign experience. Schmidt was short of graduating by just three credits in math, which he has attributed to a late-diagnosed learning disability.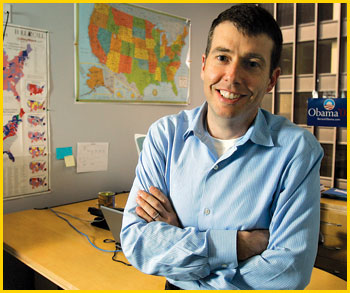 AP Photo/Charles Rex Arbogast
Bloomberg reporter Nicholas Johnston pointed out the UD connection in an Aug. 24 article. "The academic epicenter of this year's presidential election isn't, as in some years past, Harvard or Yale," Johnston wrote. "It's located between Baltimore and Philadelphia at the University of Delaware."
The article also quoted Joseph Pika, James R. Soles Professor of Political Science and International Relations, who said of UD, "We're just a political factory here. There's more going on in Delaware than people think."
Schmidt and Plouffe played similar roles in their respective campaigns, developing overall strategies, overseeing the day-to-day tactical decisions and keeping the candidates and their surrogates sticking to the targeted message. Numerous political observers from both parties and an array of viewpoints have described the men as coming to their campaigns with high-level experience and excellent reputations that—win or lose—were expected only to be enhanced by the 2008 race. Both are frequently described as extraordinarily knowledgeable, detail-oriented and focused.
Each joined his campaign, however, at a different stage, with Plouffe on board much earlier. In fact, he is credited with persuading Obama and key supporters in 2007 that the first-term senator should pursue the nomination and the presidency this year.
"David is a behind-the-scenes, low-profile political genius," says James Magee, professor of political science and international relations at UD, with whom Plouffe has stayed in contact. "He was a student of mine in constitutional law who left UD for the real world of practical politics."
Plouffe has returned to campus over the years to speak to students in Magee's classes. His interest, the professor says, was always on practical politics rather than academic theory.
Plouffe's first foray into on-the-ground politics came in 1988, the summer of his junior year at UD, as a field organizer for businessman Sam Beard in Beard's unsuccessful bid for the Democratic nomination for a U.S. Senate seat from Delaware. Plouffe went on to work for Sen. Tom Harkin's 1990 re-election campaign and 1992 presidential run and on the successful 1996 Senate campaign for Bob Torricelli in New Jersey. He was deputy chief of staff for the House Democratic leader, Rep. Richard Gephardt of Missouri, in 1997-98.
By 1999, Plouffe was executive director of the Democratic Congressional Campaign Committee, which funded House races across the country with a record $95 million. He joined the Democratic media consulting firm then known as Axelrod Associates in 2000 and in 2004 became a named partner of the firm, now called AKP&D Message and Media.
That same year, Plouffe was in Chicago, running Obama's first Senate campaign. He has said he believed from the start that Obama had what it took to be president but that at the time he didn't think the first-term senator would decide to run as early as 2008. But by 2007, Magee says, Plouffe "helped persuade a reluctant Obama" that the time was right for his candidacy. He steered the candidate through the hard-fought primaries and then the general election contest.
In a Los Angeles Times article, Democratic strategist Steve Elmendorf calls Plouffe "the most disciplined and focused person I have ever met in politics."
That description is virtually an echo of many that have been written about McCain's senior strategist as well. In an August article in The Washington Post, reporter Lois Romano writes that Schmidt "refuses ever to go off-message" and that "those who work with him say he is a master of the details."
Like Plouffe, he shuns the spotlight himself. "Schmidt is one of the most forceful, successful and unconventional political operative of his generation, running one of the most uphill GOP presidential efforts in decades—yet he is hardly known outside political circles," Romano writes in the Post article.
Schmidt had been a senior adviser to McCain for months, but it wasn't until the beginning of July that he was asked to take control of the day-to-day campaign operations.
At UD, political science Prof. Richard Sylves remembers Schmidt as hard-working and intense. After leaving the University, Schmidt managed a series of Republican congressional races around the country, reaching the presidential politics level in 2004 as director of George W. Bush's re-election campaign "war room." In that role, he tracked the media and Sen. John Kerry's campaign, responding immediately to stories and opposition comments with attacks and counter-attacks.
After Bush's re-election, Schmidt, who has become known as a protégé of the aggressive Republican strategist Karl Rove, worked for Vice President Dick Cheney. But he's also run campaigns for more moderate GOP candidates, including the successful re-election of California Gov. Arnold Schwarzenegger in 2006.
He lives in California, where he is a partner in the Mercury Public Affairs political consulting firm.