Journalistic research vital to on-air news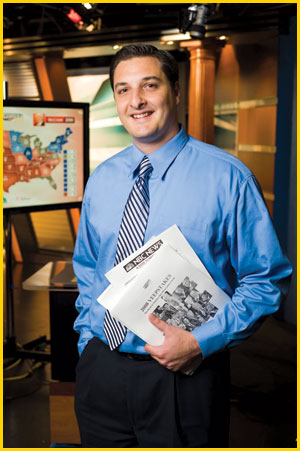 Photo by Patrick King
EPICENTER OF POLITICS | By both pedigree and design, Domenico Montanaro, AS '01, should have been a teacher. He grew up in a home where both parents were educators. His wife, Beth Hager Montanaro, CHEP '01, also is a teacher. So, when he finally became an English teacher, no one was very surprised. What surprised him, however, was how boring he found the career that his family loved so much.
"Every night my wife would ask me how my day was, and I would say, 'Fine.' It was always just fine," he says. "After a few years, she sat me down and told me that I had lost my spark, and she encouraged me to go back to school to follow my true passion—politics and journalism."
Montanaro, who worked at The Review while at UD, took his wife's suggestion to heart. He enrolled in Columbia University's Graduate School of Journalism and, after graduation, worked at CBS's 48 Hours news program for a year before joining the NBC News Washington Bureau.
Now perfectly positioned at the juncture of politics and journalism, Montanaro says he is working his dream job as a researcher for the network's political unit. He reports and edits the network's political blog, First Read, and assisted in the production of the network's debates, including writing questions and fact-checking candidate statements. He also produced briefing books for House, Senate and presidential elections and maintained the network's delegate counts headed into the conventions.
Despite the volume of information he handles for the network, his office is remarkably organized, albeit small. Instead of the inspirational posters some offices have on the walls, the space he shares with Deputy Political Director Mark Murray is decorated with pieces of plain white printer paper with black marker notations. He says he has complicated spreadsheets of the same political data on his computer but prefers to have the homemade trackers posted as well.
Their office is what the late Tim Russert jokingly called "the boiler room" of the network, Montanaro explains: "He said it's the place that no one gets to see, and they don't necessarily want to, but if it stops running you'll notice."
Montanaro and Murray are charged with preparing copious amounts of data and background for the producers and reporters on such shows as Meet the Press, Hardball and the Nightly News with Brian Williams. They regularly join conference calls to pitch stories to the shows and often act as sounding boards to on-air correspondents who want to verify the context or fairness of a statement.
Part of what makes Montanaro good at getting to the bottom of a story comes from a brief stint as a private investigator while he was working his way through graduate school, according to Murray. "I have never seen someone attack a research project with such genuine enthusiasm as Domenico does," he says.
Montanaro says his enthusiasm for the work allows him to look at his long hours—90 a week during the primary season—as an enjoyable experience rather than drudgery. "There is nothing I'd rather be doing….Seriously," he says. "If you do it, you've got to love it. It's the best job. I don't see it as work."
Article by Laura Overturf Stetser, AS '99