Vocal Point relives musical memories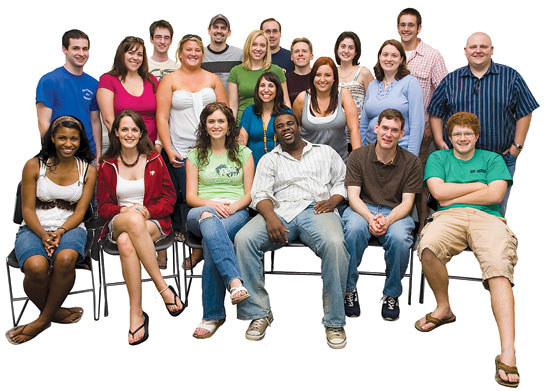 Photo by Tyler Jacobson
ALUMNI |A preschool teacher, a makeup artist, an engineer, a doctor, an accountant and a nurse were among those UD alumni who showed up earlier this year for a reunion on campus. The bond they share may not be obvious, but it's a powerful one—music.
They are past and present members of Vocal Point, whose concert in May celebrated the coed a cappella group's 10-year anniversary and a decade of shared history and memories.
Founded in 1998 by Jackie Hilderbrand Kook, AG '01, AS '01, the original group struggled at first to maintain membership and attract new performers, since other campus music groups were better known at the time.
"We had to make a pretty strong case to start yet another a cappella group," Kook says. "We decided to focus on music from the '80s and early '90s to distinguish ourselves, and we sang anywhere we could because, at first, it was hard to get people to come to our concerts."
Those early performance spaces included the lounge in Kent Hall, the stairwells in the newly completed Gore Hall and an outdoor winter concert on the steps of Morris Library. Despite its humble beginnings, members say the group always maintained a love of music and a sense of fun in both rehearsals and performance. Another early member, Kurt Goetz, AS '01, calls the group's get-togethers "awesome" and memorable.
After steadily growing and improving for three years, Vocal Point hit a rough patch in fall 2001. Membership was down to only five singers, and the graduating seniors did all that they were able to do to keep the group from dissolving. One of those seniors, Matt Schuman, AS '02, says, "We slowly built the group back up, and were proud to see it really start to flourish after we graduated."
Schuman left UD with another fond memory. Vocal Point was where he met Laura Beron, BE '02, when he joined the group in his junior year. They were married in August 2003.
The next crop of Vocal Point singers blossomed in 2002, as six freshmen joined and the group continued to grow in talent and numbers. Among the newcomers, Raj D'Souza, AS '04, says he found a home away from home in the musical group of friends and later became its president. "Vocal Point was the one constant during college," D'Souza says. "Every week I knew I had time to get away from the stress of tests and studying and hang out with great friends doing something I love."
Kathryn Gamgort, AS '04, BE '06M, is another singer who fondly remembers her time in the group, which she directed from fall 2002 to spring 2004. As a transfer student, she says that she found her first friends at UD among the members of Vocal Point and that they continue to be the people with whom she stays in touch. She currently works in the English department and serves as the group's adviser.
At the reunion concert on campus, the group celebrated a decade of memories and performed a six-song set list that, after only two nights of rehearsal, featured original arrangements from various times in Vocal Point history. The singers learned that many of them have continued in musical pursuits. Kook is a church musician; Jessi Washington, AS '06, is a solo singer who is at work on an album; and Alfredo Austin, AS '07, recently joined the professional a cappella group Hyannis Sound. All say they remember the rehearsals and performances as highlights of their student days at UD. "There was always a lot of laughter, and I was exposed to great music and great friends at the same time," Goetz says.

"Who could ask for more than that?"
Article by Crystal Buck, AS '06, '08M