Producer catches Emmy nomination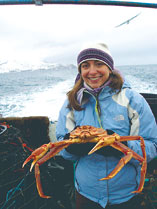 ALUMNI | When TV's 2008 Emmy Awards were handed out, one of the nominees was Vanessa Serrao, AG '98, a producer with the Discovery Channel, whose entry was a short video connected to the network's popular series about commercial fishing, Deadliest Catch.
Serrao and co-producer Will Johnson were nominated for a Creative Arts Emmy in the category of Outstanding Special Class—Short-Format Nonfiction. Their series of videos was produced for Discovery Digital Media for broadcast on Discovery.com, Video on Demand and Discovery Mobile, and Serrao directed and edited the episode that was nominated.
"The series profiled the town of Unalaska/Dutch Harbor on the Aleutian Islands, where the ships from the series Deadliest Catch port," Serrao says. "We wanted to show what the town is really like and feature the people who live there."