Catch up, keep up with old friends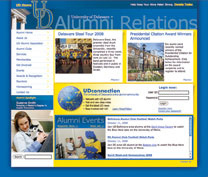 ALUMNI | Laurie Keen Behr, CHS '77, says she's often thought about friends and classmates from her years as a nursing student at UD, but she felt as if so much time had passed that trying to contact them would be awkward. Then she learned about UDconnection.com, the University's online community for alumni.
Launched at the UD Forum last May, the service allows alumni to reconnect with their alma mater and with one another. By late-October, more than 8,800 Blue Hens had registered, posted photos, updated information about themselves and reunited with friends. Behr, who lives in Texas, is one of them. She received a mailing about the online community and decided to sign on.
"I lost touch with all my college friends over the last 20 or so years," she says. "UDconnection.com allows a completely easy opportunity to find old friends and reconnect."
Behr already has rekindled one of her student friendships. "I have shared wonderful e-mails with my friend Mary Churchill Wyman [AS '76, who lives in New York state]. We have had such different lives, yet still found so much in common," she says.
The design of UDconnection.com makes it quite accessible and easy to use, Behr says, adding that she looks forward to reconnecting with other classmates as more Blue Hens register.
Since its start, the online community has been further enhanced by significant upgrades and the addition of new features. Users now can take advantage of a Facebook application, profile commenting, résumé uploading, RSS feeds and an improved search capability.
The Facebook application links UDconnection.com to the prominent social networking site via the new University of Delaware Alumni Connections application, which is free to Facebook users. The new application allows Facebook users who are registered on UDconnection.com to update their user information, access alumni announcements and information and view alumni events from their Facebook homepage.
For alumni who are looking for a new job, seeking to hire a fellow alum or just searching for Blue Hens in their own professional field, the online community now offers a tool that allows users to post their résumés for all visitors to see. Combined with the new global search capabilities, this feature can help alumni find jobs, employees or contacts. The global search allows users to perform more specific searches. In addition to the basic and advanced name searches, alumni can search class notes, résumés, the events calendar and alumni club pages.
The addition of RSS (Really Simple Syndication) feeds to UDconnection.com makes keeping track of alumni events and happenings easier. Subscribing to an RSS feed is like subscribing to a magazine that is delivered to a user's RSS Reader every time a Web site is updated. By subscribing to the Events Feed or Class Notes Feed on UDconnection.com, an alumnus will be notified every time an alumni event or a class note is added.
Another feature that facilitates getting and staying in touch is profile commenting, which allows a user to send a quick hello to a long-lost former roommate or a detailed description of a great reunion event.
In all cases, security and privacy are top concerns of the University, and UDconnection.com gives all users a chance to keep some or all of their personal information private. Any user who is contacted inappropriately by another should notify the Office of Alumni Relations.
Article by Stephen Mangat, AS '04