Undersecretary serves as Army's top manager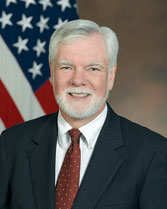 ALUMNI | Nelson M. Ford, CHEP '73M, has been appointed undersecretary of the Army, the department's chief management officer and its second-highest civilian leader.
Appointed to the position by President George W. Bush and confirmed by the Senate, Ford shares primary responsibility with the Secretary of the Army for resourcing, training and employing 1.3 million personnel—active duty, National Guard and Reserve members and civilians—with an annual budget of $250 billion. He serves as deputy and senior adviser to the Secretary of the Army.
Ford earned his master's degree in special education at UD and began his career as a guard
at the Ferris School for Boys and a teacher at P.S. duPont High School, both in Wilmington, Del.
He also did substantial postgraduate work at the University of Pennsylvania.
"The graduate training in behavioral observation and analysis I received at the University of Delaware has been valuable throughout my career, initially in the classroom but much more so in the give-and-take in boardrooms and management meetings over the last 30 years," Ford says.
Before his most recent appointment, Ford served as principal deputy and then as assistant secretary of the Army for financial management and as comptroller. He joined the Department of Defense in 2002 as deputy assistant secretary for health budgets and financial policy.
His previous positions included president and chief executive officer of a medical products firm, chief operating officer for Georgetown University Medical Center in the 1990s and a partner with Coopers & Lybrand in the 1980s. He became acting undersecretary of the Army in December 2007 and was nominated formally in January.