Poet laureate promotes arts education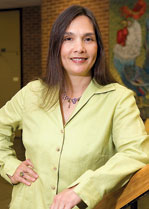 ALUMNI |vDelaware's new poet laureate, JoAnn Balingit, CHEP '08EdD, says she felt compelled to become a poet.
"I have to write, and I have to write poetry," she says. "Writing about things helps me comprehend the world, understand life and
my experiences."
Balingit, who received her doctorate in educational leadership in May, just a few weeks after her appointment to the statewide post by Delaware Gov. Ruth Ann Minner, says she plans to be proactive, working with the Delaware Division of the Arts. She succeeds Fleda Brown, UD professor emerita of English, as poet laureate.
"I want to enhance the presence of poetry in the state and in the schools," she says. "I also want to support working writers….The arts are a necessity, not a luxury."
Balingit has won several awards for her poetry, and her work is included in the national anthology Best New Poets 2007 and other poetry collections. Her poems have appeared in journals and in Rolling Stone magazine. Her poetry chapbook, Forage, was a finalist in the 2006 Bright Hill Press Chapbook Contest, and her work is included in On the Mason Dixon Line: An Anthology of Contemporary Delaware Writers, published by the University of Delaware Press.
In addition to poetry, Balingit is an accomplished prose writer and has worked as a school librarian.