Curator shares his lifelong love of art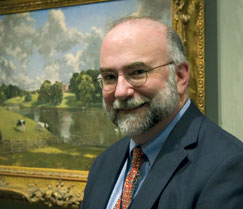 Photo by Karen Jordan
ALUMNI | As an undergraduate in North Carolina, Franklin Kelly recalls, his decision to major in English worried his parents, who were afraid he'd have trouble getting a job after college.
Later, he says, "They were so pleased when I announced I was changing my major—until they heard it was to art history."
As it turned out, Kelly, AS '85PhD, never had any problems with the career path he chose after discovering a passion for art history. He found work in museums, went on to earn master's and doctoral degrees and in October became deputy director and chief curator at the National Gallery of Art in Washington, D.C. In his new position, Kelly oversees about 30 curators as well as educators, conservators, librarians, Web masters and more.
After he earned his doctorate in art history from UD, he was a fellow at the National Gallery and rose through the ranks to become senior curator of American and British paintings. Except for a short time at the Corcoran Gallery of Art, he has been at the National Gallery ever since, for more than 21 years.
During his career, Kelly has been involved in mounting major exhibitions of the works of such artists as J.M.W. Turner, Winslow Homer and Frederic Edwin Church. His new position is largely administrative, and Kelly admits he will miss the hands-on work of creating and researching exhibitions from concept to fruition but says he feels he can best serve the National Gallery in his new job. His other regret is that the time constraints of his new position have forced him to retire as a professor of art history at the University of Maryland.
Kelly grew up in Richmond, Va., where his father was a theologian. The family took extended trips to Europe, which exposed him to the great museums and famous sites of art and architecture. When he entered the University of North Carolina as a freshman, Kelly planned to major in English, but a course in art history soon changed his mind. After graduation, by sheer serendipity, he says, a job was open at Richmond's Virginia Museum of Fine Arts, and he was hired. It was a broad learning experience. Kelly was in charge of the Artmobile, which traveled throughout the state to schools, colleges and other locations.
"I did everything but drive the van," he says. "I was the custodian, the tour guide, the set-up person and the packer—making sure everything like the Tiffany lamp was secure for travel. I was in awe that I was actually handling and in charge of the art objects."
Kelly's next step was to enroll in the Williams College Graduate Program in the History of Art, where he received his master's degree.
"It was there I became interested in American art, and when I decided to continue my education, the University of Delaware was the place to go," he says. "There were such great professors—Wayne Craven, Damie Stillman, William Homer and Larry Nees, who is still on the faculty. For an art historian, it was a wonderful location as well." His dissertation was on Frederic Edwin Church, which became the basis for his books about the artist.
Now, as he embarks on a new phase of his career, he says his underlying mission remains the same as always—to further the cause of art. "The National Gallery has a great past, and there are many opportunities for a great future," he says. "I believe in the place."
Article by Sue Moncure