Families, students share a weekend on campus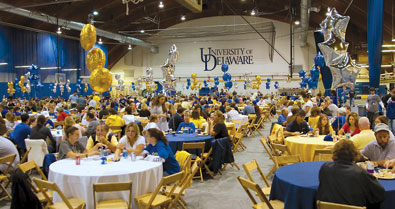 Photo by Mark Campbell
ALUMNI | Enthusiastic students and their families reunited for Parents and Family Weekend in late September, taking part in a variety of special activities despite the cloudy skies and rain showers.
Beginning with the sold-out comedy show on Friday night, attended by about 3,000 persons, and climaxing with the Fightin' Blue Hens' 38-7 victory over the University at Albany, the weekend was a rousing success, Monica Taylor, vice president of University development and alumni relations, says.
Students and their families had a wealth of activities from which to choose—a Town Hall Meeting with UD President Patrick Harker, followed by a University Services Panel, University Life lecture sessions and the informal "On the Green with the Deans" reception were among the programs offered.
This year, Taylor says, each college planned interesting and engaging activities and programs, which provided opportunities for parents to learn about the academic experiences of students. The pregame tailgate party with the band, cheerleaders and YoUDee revved up Blue Hen fever and spirit before the game and as always was a favorite, Taylor says.
Parents and Family Weekend had something for everyone, including art exhibitions, a campus ghost walk, ice skating, college programs and football, says Cindy Campanella, CHEP '84, director of alumni relations, who coordinated the weekend.
"Some parents traveled a long way to attend, and we had a very large turnout," she says. "The weekend also was a chance for parents and students to network with faculty and staff and to learn more about the UD experience."