Club benefits from coordinator's professional skills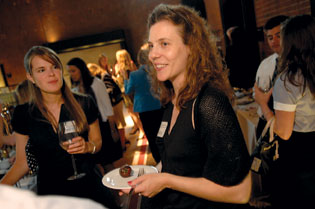 Photo by Wiqn Ang
Lisa Blazejewski
ALUMNI | Collaboration and communication are key elements in Lisa Blazejewski's job as a genetic counselor, skills the University alumni office tapped in asking her to serve as coordinator for the Boston Alumni Club.
Working in tandem with obstetricians and scientists, geneticists and oncologists, Blazejewski, AS '95, functions almost as a translator at the University of Massachusetts Memorial Medical Center, explaining to patients what certain test results or family medical histories can mean to their health.
"People come in with hereditary concerns when they are pregnant or when they find out a disease runs in their family," she says. "I handle questions like, 'My cousin has [a particular medical condition]. Is testing appropriate?'" Her position requires her to act not only as a resource for patients but also as a liaison between physicians, streamlining the process that sometimes can get complicated by having many different disciplines involved with a single patient.
"Some days I am in the clinic, seeing patients. Some days I am counseling them on their risks for hereditary disease. Other days I am in hospital labs, ensuring that tests get ordered accurately and appropriately. It depends on the day," Blazejewski says, adding that her interest in genetics began early.
"A high school biology class was the first time I really learned about genetics. It was basic hereditary stuff, but I said right then, 'I think I'd like to do that.'" So, she entered the University as a biology major, taking on additional minors in psychology and sociology to supplement what she calls "the other side of it, the psycho-social side of genetics."
After attending graduate school at the University of Minnesota, the Massachusetts native returned to Boston and secured her job at the medical center in Worcester, where she has worked for six years now.
Since she was originally from the Boston area, she was an easy pick to become the local alumni club coordinator two years ago, a post she says she was initially hesitant about taking until she discovered what the volunteer position actually entailed.
"I had gone to events here and there, but it wasn't until I was 'recruited' by Sandy Tilford [CHEP '95] from the alumni relations office that I considered becoming a coordinator," Blazejewski says. She says the support she receives from the office helps her handle the position in addition to her busy professional life.
And, she says, she enjoys staying involved and contributing to the University and her fellow alumni.
Recently, the Boston club has been growing. "More people are coming to Boston," Blazejewski says. "When I went to Delaware, I think I knew only three people from Massachusetts. A lot more students from Boston are going to Delaware and then coming back home. There's a lot of opportunity here."
Article by Laura Overturf Stetser, AS '99