Alumni relations director welcomes new role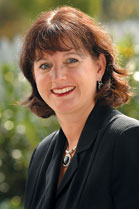 ALUMNI | Cindy Campanella, CHEP '84, an alumna with more than 20 years of experience as a corporate manager and events planner, became the University's director of alumni relations in September.
She is responsible for such initiatives as coordinating and enhancing UD's regional and affinity alumni clubs worldwide; developing new programming for alumni; planning such events as Homecoming and Reunion Weekend; serving as the administrative leader of the UD Alumni Association; and working with other University offices to foster greater alumni involvement in a variety of activities.
"She is a Delawarean and, more importantly, a Blue Hen, with significant management experience and a commitment to working for her community," Monica Taylor, vice president for development and alumni relations, said in announcing Campanella's appointment. "This is an exciting time for alumni relations and for the University, and we look forward to the role Cindy will play in strengthening and growing our global alumni network."
Campanella says she views her new position as presenting "a unique set of opportunities" to be part of UD's progress over the next several years as set out in President Patrick Harker's Path to Prominence strategic plan.
"I was drawn to the University for many reasons, one being the transformation it will undergo over the next several years," she says. "The Path to Prominence is the ideal strategy to ensure that the University of Delaware exceeds its goal of being recognized as a premier public university."
Campanella, who earned her undergraduate degree in consumer economics at UD in 1984, worked for MBNA America (now Bank of America) in a variety of positions from 1985-2006, including outward telesales department manager and manager of the "People Satisfaction" initiatives for the bank's U.S. card business operations. In 2006, she was a founder of a custom personal-services and event planning firm.